July 14, 2023
Smoothie Bowl vs Smoothie: What's the Difference
If you follow the foodie world, you've undoubtedly noticed that the pages of most culinary bloggers are suddenly filled with beautiful images of symmetrically placed fruit and veggies ensconced in large round bowls, accompanied by spoons, not straws. What is this trendy new concoction, and why is it so popular? It's called a Smoothie Bowl — and it may be the most perfect breakfast meal ever created.
What is a Smoothie Bowl?
Smoothie bowls are generally more nutrient dense compared to smoothies, and are thick enough to eat with a spoon rather than consumed through a straw. Smoothie bowls often incorporate frozen fruits, veggies, juices or milk, ice and even butters like peanut butter or almond butter for added protein.
Thanks to their thick texture, smoothie bowls are designed for toppings, as their dense consistency holds up to hearty ingredients like nuts and granola, which add crunch and texture while providing sustained energy, healthy fats, and protein to keep you full throughout the day.
Smoothie bowls aren't meant to be gulped down in seconds like a regular smoothie, which traditionally is made of pureed fruits and yogurt. Rather, a smoothie bowl is meant to feel like a real meal with layers of flavor, texture and color. Plus, you enjoy it with a spoon, not a straw.
What is a Smoothie?
Smoothies are made by putting your choice of fruits, veggies, milk, protein powder, etc., into a blender to create a delicious and nutritious drink. With so many combinations available, it's easy to customize your smoothie to your preferred taste and dietary requirements. Whether you're looking for a refreshing breakfast, a post-workout treat or something fruity to sip on, smoothies are the perfect choice.
What is the difference between Smoothie Bowls and Smoothies?
Time and Convenience
Smoothies are quick and easy to create, making them a great choice for a portable, on-the-go snack. Smoothie bowls, however, require more than just a straw. Usually, they will be eaten with a spoon and have a thick smoothie bowl base with your choice of toppings.
Taste and Flavor
Flavor-wise, smoothies and smoothie bowls will taste very similar. The base of a smoothie bowl is a little bit thicker than a regular smoothie and has multiple, customizable toppings such as sliced fresh fruit, peanut butter, granola, nuts or maple syrup.
Nutritional Value
Since you can essentially add whatever you'd like to your blended creations, there's no real difference in nutritional value between smoothies and smoothie bowls. However, a smoothie bowl allows you to add more nutritious toppings like sunflower seeds, nut butter and fresh fruit since you eat it with a spoon. But you can keep all your smoothies healthy by adding all your favorite fruits and veggies to the mix, or you can make them sweeter with a scoop of ice cream. The choice is yours!
Smoothie Bowl Benefits
The best bowls mix plant-based fats with low-glycemic fruits and nutrient-rich green vegetables. Foods like avocado, nuts, and hemp and chia seeds add thickness and creaminess to your bowl's base while providing healthy fats and anti-inflammatory omega-3s to keep you filled up and fueled until lunchtime.
Low-glycemic fruits like berries, cherries, apricots, apples and pears offer fruity flavor and beneficial nutrients while promoting stable blood sugar levels.
Due to their overall consistency and healthy ingredients, smoothie bowls are a great choice for die-hard cereal eaters who are looking to transition into healthier breakfast habits.
How to Make a Smoothie Bowl
Add fresh or frozen fruit into a high-power blender
Throw in some nutrient-dense greens, such as spinach or kale, and thicken with plain Greek yogurt or healthy fats like almond butter, coconut oil, flax seed or avocado to create a thick, rich, creamy consistency — much like frozen yogurt.
Add a liquid of your choosing
You will need to add a little liquid to the blender, but the amount will depend on the consistency you desire and the ingredients you're using. Try using milk, non-dairy milk or fruit juices. You will want to add enough milk or ice cubes to puree the ingredients together yet leave it thick enough for a spoon to stand in the center of the bowl once pureed. If the smoothie mixture becomes too thick, you may need to add a bit more liquid. If the mixture is becoming too runny, add in more frozen fruit, ice or ingredients.
Puree the ingredients together in a blender
Make sure your lid is sealed on tight before you begin blending. To avoid issues with your blender blades, you may want to blend in 5-second pulse intervals until the larger frozen chunks begin to break down and mix with your wet ingredients. Keep blending in 5-second pulses until everything begins to blend smoothly. If you notice that the ingredients are remaining in big chunks or sticking to the side, you will have to stop the blender and use a spatula or spoon to scrape the sides and push the chunks down into the blades and repeat the process.
Optional: Add leafy greens
Once the frozen ingredients are blended fully, you can opt to add a handful or two of leafy greens like spinach, kale or Swiss chard into your base blend. This lets you "sneak" a serving of vegetables into your first meal of the day, without changing the fruity flavor you expect from a smoothie.
Pour the mixture into a bowl and get creative with toppings
Get creative with an array of toppings to "decorate" your smoothie bowl much like you would an ice cream sundae. Use leftover sliced fruits, chopped nuts, shredded coconut, pumpkin seeds, cinnamon and granola, and maybe a drizzle of honey, agave, maple syrup or chocolate syrup.
Smoothie Bowl Recipes
Feel-Good Smoothie Bowl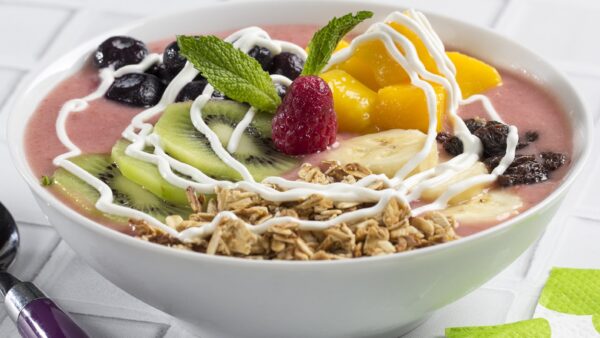 Start your day in a healthy way with this Feel-Good Smoothie Bowl recipe. Add some delicious nutrition to your mornings with this bowl that's full of good-for-you ingredients.
Get the recipe
Power Berry Smoothie Bowl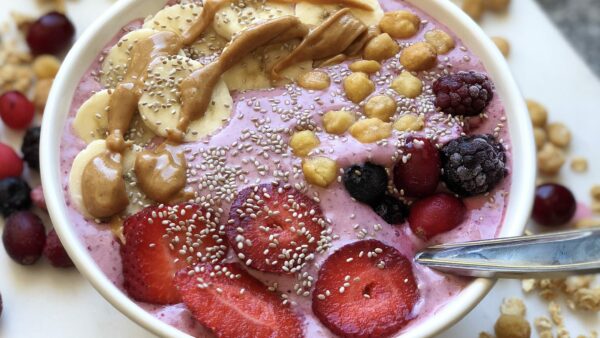 Add a fruity power-up to your mealtime with a Power Berry Smoothie Bowl recipe. With a blend of delicious fruits and packed with protein, this smoothie in a bowl will give you the energy to take on the day.
Get the recipe
Easy-Breezy Smoothie Bowl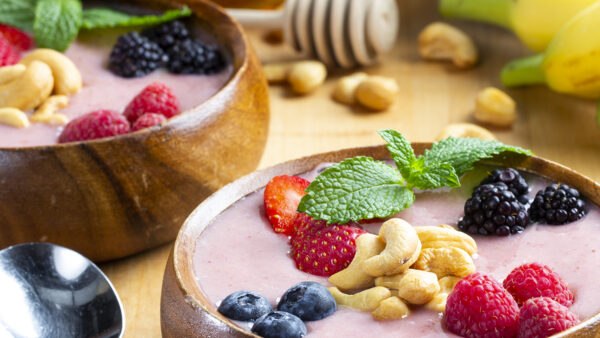 Seven ingredients and under 15 minutes to make mean this easy smoothie bowl is perfect for mornings. Rise 'n' shine to this tasty and nutritious Easy-Breezy Smoothie Bowl recipe.
Get the recipe
Berry Kale Smoothie Bowl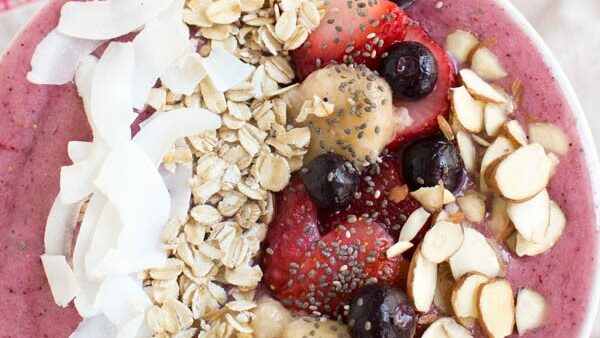 This blend of kale, frozen fruit, veggies and coconut water makes this smoothie bowl delicious and refreshing. Add your choice of toppings to make this Berry Kale Smoothie recipe your next go-to snack.
Get the recipe
Summer Superfood Smoothie Bowl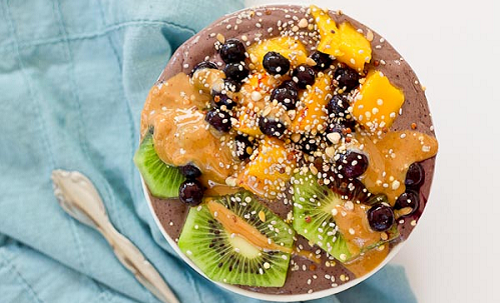 An easy smoothie bowl that's full of nutritious superfoods and packed with protein? Sounds like the perfect summer treat. Make this Summer Superfood Smoothie Bowl recipe to keep cool and fueled.
Get the recipe
FAQs on Smoothie Bowls vs Smoothies
What's the difference between an acai bowl and a smoothie bowl?
While they are very similar, smoothie bowls can be made from a variety of different fruits, vegetables and ingredients, including acai berries. Whereas acai bowls are made with frozen acai berries and pulp as the base ingredient of the dish. Both are often mixed with a variety of other fruits, veggies and toppings.
How do you thicken a smoothie bowl?
If your smoothie bowl is runny, try adding more thickening ingredients while the mixture is still in the blender, like frozen fruits, a banana, avocado, peanut or almond butter, chia or hemp seeds, and dark leafy greens. Adding more ice may also help temporarily, but the smoothie bowl will become runny again once it begins to melt.
What are the best liquids for a smoothie bowl?
You can use a variety of juices, milk, water and non-dairy products as your liquids in smoothie bowls, such as almond milk, soy milk, coconut water, orange juice, pineapple juice, apple juice, celery juice and many more depending on what flavor you are looking for.
Can I eat a smoothie bowl every day?
Some smoothie bowl benefits include a good intake of fruits, veggies and healthy fats, but be careful not to overdo it. When you add all the mix-ins and smoothie bowl toppings, it's easy to get carried away with large portions and high-calorie ingredients.