June 18, 2021
18 Father's Day Recipes to Show Dad Some Love
It's Father's Day Weekend and the best way to honor dad is with a Father's Day feast! It is typical for men not to desire the affection and admiration we give to our mothers on their day. Instead, we think of other ways to show our appreciation. Nothing says I love you more than making the father figures in our lives their favorite dish! Try cooking up these summer-inspired ideas your dad will be asking for all year!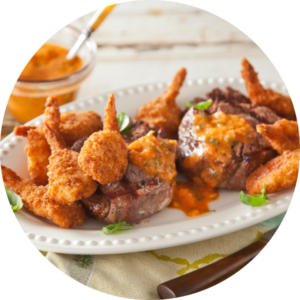 Grilling Favorites & More
The Fried Pickle & Cheese Burger adds more flavor and more crunch to your average burger. Yum!
The Summer Steak & Shrimp recipe is the best way to tell dad how much you appreciate him.
Nothing could be easier than these Cheesy Grilled Pierogy Packets with Bacon.
The Buffalo Chicken Calzone will be the best calzone your dad has ever had!
Let Dad top his own Grilled Pita Pizza that you grill 'til it's perfectly crunchy and gooey.
For the dads who are meat-free, try this yummy Spicy Black Bean BBQ Burger.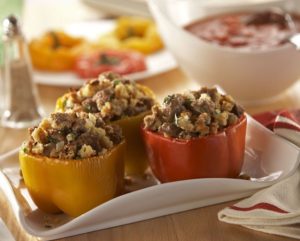 Sides & Snacks
These Meatball Sub Skewers wrapped in Wewalka's Classic Pizza Dough are a father's day favorite!
Dad will be asking you to make these Tasty Sweet and Spicy Bacon Wrapped Mozzarella Sticks every weekend!
No guy in the world can resist feasting on these Waffle Fry Skillet Chicken Nachos.
Nothing says Father's Day like Grill Roasted Corn-On-The-Cob!
Ooey Gooey Baked Cheddar Mac & Cheese with Bacon is the perfect side for any occasion.
This Meatball Stuffed Peppers recipe hits all the right taste buds!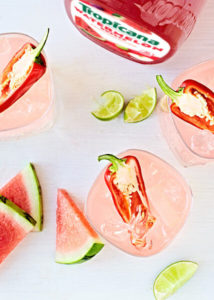 Drinks & Desserts
Wake your father up with a spiked coffee with this Irish Coffee recipe.
This Banana Split Smoothie could be the best dessert or drink he'll have all summer!
Just when we thought cheesecake couldn't be any better, the Cannoli Cheesecake was made. Yum!
This Spicy Watermelon drink made with tequila and Fresno chili is the perfect way to drink with dad.
This 3-Ingredient Dairy-Free Chocolate Pudding is easy to make and delicious. It doesn't get better than that!
Who doesn't love chocolate?! Make your favorite guy a Double Chocolate Smoothie!
Happy Father's Day to all the father figures out there! We hope these recipes fill his stomach with love. Share what idea you enjoyed the most on our social channels @EasyHomeMeals