December 30, 2020
Ring in the New Year with These Celebratory Recipes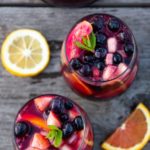 This year has been one we certainly won't forget and we're excited for the new year upon us. Let's embrace a fresh start and new beginning with a New Year's Eve celebration! Enjoying delicious drinks, savory appetizers and delectable desserts is the best way to say goodbye to 2020!

'Cheers' to these drink ideas:

Appetizers to snack on all night:

Desserts to satisfy your sweets craving:
What recipes are you planning to make this New Year's Eve? Share with us on social @EasyHomeMeals!