July 29, 2022
Get Grillin': How-to Tips & Sensational Side Dishes
Whether you're in the mood for a smokey barbecue, a weekend cookout or just an easy weeknight meal that won't heat up the kitchen, it's time to fire up the outdoor grill! July is National Grilling Month and I'm here to help with grilling tips and simple side-dish recipes.
Easy Gas Grilling
When using a gas grill equipped with a propane tank, check your gas reserve before and after cooking. A 20-pound tank provides 12-14 hours burn time. Today, most gas grills feature a simple and safe push-button start. Begin by pre-heating your gas grill for about 10 to 15 minutes on high (until temperature reaches 500-550°F). Pre-heating promotes even cooking and helps keep foods from sticking to the grill grates. Then, reduce flame to desired height (medium to medium-high). Remember to keep a spare propane tank on hand, just in case!
'Old-School' Charcoal Grilling
For some, the nostalgic aroma and flavor of a charcoal grill is the preferred way to go. Backyard grilling dates back to the 1920s followed by a growing popularity of charcoal briquettes and portable grills in the 1930's. Preheating charcoal takes about twice as long (20 to 25 minutes) as gas-grilling to achieve the ash-grey color needed to begin grilling. Beyond standard charcoal, you can add signature flavor booster combinations including garlic, onion & paprika; cumin & chili; and basil, sage & thyme or classic hardwood infusions of cherrywood, hickory or mesquite flavors.
Add Flavor with Marinades

Marinating is another way to enhance flavor and tenderize animal proteins. Arrange your choice of protein in a single layer in a glass or ceramic baking dish or a plastic bag, add your favorite marinade and allow to marinate in the refrigerator (40°F) several hours (for fish and shellfish) or up to 2 days (for meats and poultry).
Grill to Proper Temperatures
No matter which grilling method you choose, remember to cook fresh protein sources to a safe internal temperature. Test with a food thermometer to be sure. Use a clean platter for fully-cooked foods. Remember, internal temperature continues to rise 3 to 6 degrees after grilling. Allow for a 10-minute rest so juices can redistribute instead of spilling out when sliced.
GRILL TEMPERATURE CHART
PROTEINS
INTERNAL TEMPERATURE
Fish & Shellfish
145° F
Beef, Pork, Lamb, Veal
(steaks, chops, roasts)
Minimum 145° F (Rare)
160° F (Medium)
170° F (Well-done)
Ground – Beef, -Pork, -Lamb, -Veal
160° F
All Poultry (whole, ground, portions)
165° F
Can Frozen Foods be Grilled?
"Yes" you can grill frozen foods, but expect it will take about 50% longer. According to United States Department of Agriculture, it's best to completely defrost meat and poultry before grilling, so it cooks more evenly. However, uniformly thin meat, such as frozen hamburger patties, may be grilled frozen. In addition, remember outdoor grills can vary in heat. Use a food thermometer to check for doneness and measure temperatures in several places to ensure even cooking.
6 Sensational Summer Side Dish Recipes
Frozen and refrigerated food ingredients make it easy to whip up summer side dishes to serve along with grilled main dishes. Click through to each recipe to give them a try!
Everything Bagel Dip with Veggies
In just 15 minutes, you can have this colorful crudité appetizer assembled. It's so easy to prepare in advance (2 hours ahead to overnight).  Simply slice up your favorite fresh and healthful raw vegetables including sweet bell peppers, yellow squash, zuchini, celery, grape tomatoes, broccoli, cauliflower and carrots; set aside. Add a dip bowl to the center of a serving tray. Arrange fresh veggies in attractive groupings, adding your choice of fresh cilantro, parsley sprigs or celery leaves as garnish. In a small mixing bowl, add cream cheese, sour cream and everything bagel seasoning. Mix, cover and, ideally, chill for at least 2 hours to allow the dip's flavors to fully develop. Add a teaspoon of the seasoning to the finished dip just before serving.
Want a 5-minute side dish? Here it is! The secret is fast, high-heat cooking in a large skillet. After just 1 to 2 minutes of cooking, the fresh snap peas will begin to blister and darken in spots, developing delicious flavor! Reduce the heat and add tomatoes and shallots. After a few more minutes, remove from heat and add the final flavor-brightening ingredient. Serve immediately.
Quick tip: Because this dish cooks so quickly, make sure to have all ingredients gathered, washed and sliced as needed before you get started.
Tiny toothpick skewers are always a hit at picnics and cookouts. They're made with bite-sized, flavorful ingredients and kids can have fun helping with the assembly. On each skewer, add a cherry tomato, a rolled fresh basil leaf, and a bocconcini (fresh mozzarella ball). Repeat to the end of the skewer. Arrange in rows on a long, narrow serving dish. Just before serving, add freshly ground sea salt and pepper and a drizzle of extra virgin olive oil.
Simply brush individual slices of grilling cheese with olive oil. Place directly on a hot grill, according to package directions. Remove cheese from grill and set aside until cool to the touch. Slice into bite-sized chunks. To assemble, skewer a whole mint leaf, followed by a chunk of cheese and a similarly-sized watermelon cube. Arrange skewers on a wooden serving board. Drizzle each with balsamic glaze.
Fun Fact: Watermelon contains just 80 calories and 25% of your daily recommended Vitamin C in a 2-cup serving.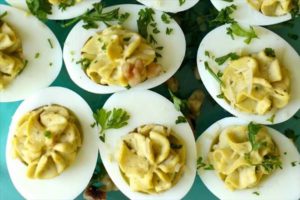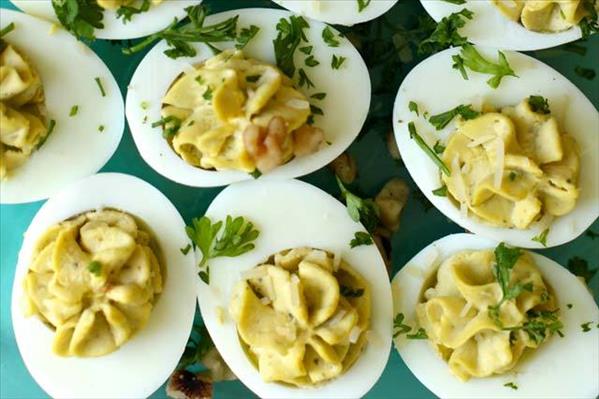 Deviled Eggs are a staple side dish at many summer gatherings. But this recipe has a few surprise ingredients that will boost both nutritional value and flavor! Who knew you could mix kale, walnuts, garlic and parmesan cheese into the creamy filling? Everyone will be asking you for the recipe to make this pesto-inspired twist on traditional deviled eggs.
Italian Tomatoes with Herbed Cheese
Add a stack of grilled Crostini or Toast Points when serving these fresh tomatoes slices topped with herbed cottage cheese. Add a sprinkle of sea salt and drizzle of extra virgin olive oil and balsamic vinegar just before serving.
When in Doubt, Throw it Out
When trying to decide how long perishable picnic foods can safely be kept outside of refrigeration, remember the 2-hour rule. Toss out perishable foods left out at room temperature for longer than 2 hours (or longer than just 1 hour when air temperature exceeds 90-degrees). It's ideal to keep hot foods hot, at 140 °F or above, and keep cold foods cold, at 40°F or lower. Use serving tools such as chafing dishes, slow cookers, warming trays, cooler chests, frozen ice bowls or nested ice baths to be food safe.
What are your favorite side dishes when grilling out? Share with us on social media @EasyHomeMeals.
About the Author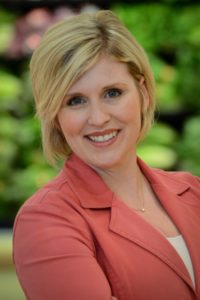 Karen Buch, RDN, LDN is a central Pennsylvania-based Registered Dietitian Nutritionist with over 15 years of experience working in grocery retail. As Founder of Nutrition Connections LLC, Karen uses multi-media communications to help consumers make the connection between food, nutrition and health and provides consulting services to various clients within the food industry. Connect with her on Facebook, Twitter and Instagram.