Italian Tomatoes with Herbed Cheese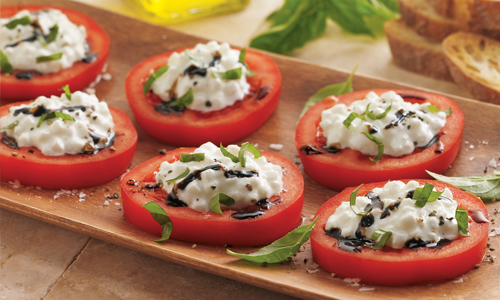 Recipe At A Glance
6 ingredients
Under 15 minutes
4 Servings
A lighter version of this classic Italian appetizer!
Sponsored By

Recipe Ingredients
2 large Roma tomatoes, each cut in 6 slices
3/4 c. Daisy® Cottage Cheese
1/4 tsp. freshly ground black pepper
2 Tbsp. chopped fresh basil
2 tsp. balsamic vinegar
2 tsp. extra virgin olive oil
Recipe Directions
Arrange the tomatoes in single layer on a large serving plate. Spoon the cottage cheese evenly over the tomatoes. Sprinkle with the pepper and basil. Drizzle the balsamic vinegar and olive oil over the salad. Serve immediately.
*Try serving with toast points.*
**Sprinkle with Kosher salt, if desired before serving.**