February 24, 2023
Choco-Mania: A Collection of Sinfully Delicious Recipes for Chocolate Lovers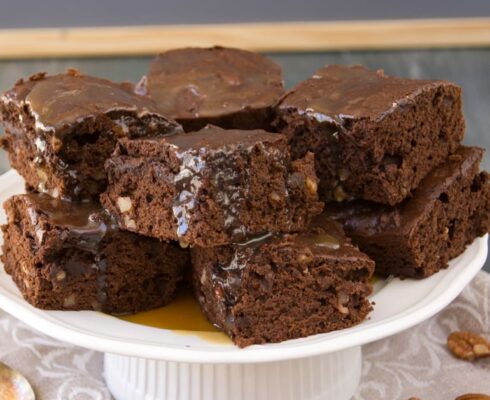 Chocolate lovers, rejoice! February may be the shortest month of the year, but it's also the sweetest… Happy National Chocolate Lovers Month!
This month is a time to celebrate one of the most beloved treats and ingredients in the world. Whether you prefer milk or dark chocolate, or something in between, this month is the perfect excuse to treat yourself.
Ch can be used in a wide variety of desserts and baked goods, from cakes and cookies to truffles and fudge. It can also be used to flavor beverages, such as hot chocolate and chocolate milk, or incorporated into savory dishes, such as mole sauce.
How can you celebrate Chocolate Lovers Month? Here are a few of our favorite ideas:
Chocolate is the answer, no matter what the question is.
Treat your sweet tooth with our sinfully delicious Dark Chocolate Peanut Butter Frozen Pie.
Chocolate + buttery flaky goodness = these Chocolate Croissants!
Double the chocolate, double the indulgence. Our Double Dark Chocolate Brownies are a chocoholic's dream come true!
Indulge in a slice (or two) of our Dairy Country Chocolate Sheet Cake.
Get your buzz on and your s'mores fix at the same time with our Tipsy S'mores Milkshakes!
Chocolate is our love language.
Take your taste buds on a Parisian vacation with our Chocolate Éclair Cake.
Soft, fluffy, and filled with pockets of decadent chocolatey goodness, our Chocolate Brioche Buns are the perfect treat for any time of day.
Enjoy a guilt-free dessert with this Vegan Chocolate Avocado Mousse!
Who needs a campfire when you have these S'mores Mini Tarts?
When in doubt, add more chocolate.
Soak in some sweet nostalgia with these irresistible Five Star Chocolate Chip Cookies!
Spoil yourself in a bite-sized slice of heaven with these Mini Chocolate Cheesecakes.
Get ready to dip, dip, and dive into this S'mores Dessert Dip!
Good things come to those who eat chocolate.
Have your cake and eat it too with this Raspberry Yogurt Chocolate Roll.
Simplify dessert with this Turtle Pie!
These Chocolate Pixies will be your new family favorite!
Get ready for a chocolate explosion in every bite! These Chocolate Molten Lava Cakes are the perfect treat for every chocolate lover.