March 9, 2023
9 National Meatball Day Meals You'll Love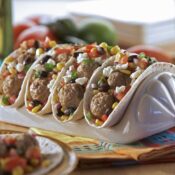 Meatballs have much more potential than just spaghetti and meatballs – not that the classic dish isn't delicious! This National Meatball Day – which happens to fall during March Frozen Food Month – we encourage you to visit the frozen food aisles and explore the tasty products that can be used for incredible home-cooked meals. From traditional flavors to innovative ethic entrees, there's a recipe for everyone!
Don't eat meat? Try Cutting Vedge's Veggie Forward Meatballs or Gardein's Plant-Based Meatballs as a meat-free substitution! We also love meatballs from Rosina, Celentano, Simek's, Farm Rich and Armanino Foods who all offer any flavor you can imagine.
With so many flavorful options available – what are your favorite meatball recipes to enjoy? Share with us on social @EasyHomeMeals!