August 8, 2022
Healthful Morning Solutions for Back-to-School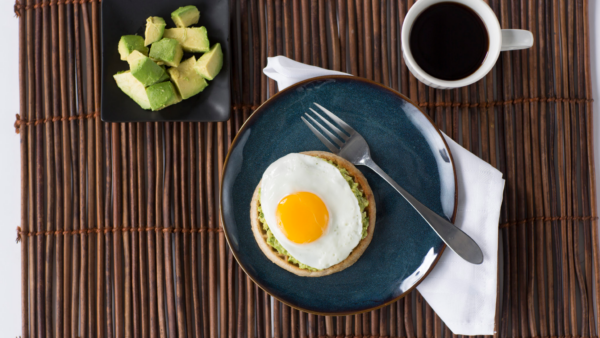 It's August, which means back-to-school season is officially here. Mornings are always especially hectic between preparing a nutritious breakfast and packing lunches for the kids. When school is in session, busy families need healthful meal ideas they can make in a snap.
Make Breakfast a Habit
Eating a nutritious breakfast daily is one of the best ways for kids to refuel, energize and kickstart the day. Studies show kids who eat breakfast can expect improved concentration and brain function. In addition, breakfast eaters tend to eat healthier overall and are more likely to be physically active. Pair foods that supply carbohydrate, protein and fiber for lasting appetite satisfaction.
Breakfast Essentials List
-Fresh Eggs
-Hard-Cooked & Shelled Eggs
-Fruits & Vegetables
-Yogurt
-Cottage Cheese
-Oats
-Iron-Fortified Whole-Grain Cereals
-Low-Fat Milk (Skim or 1%) or Milk Alternatives
English Muffins
-Veggie Sausages
-Cheeses: Block, Shreds, Sticks
-Whole-Grain Waffles
-Nuts and Nut Butters
-100% Juice

Need some quick grab-and-go breakfast ideas?

Make a quick and easy PB & J Waffle Sandwich. It's a tasty combination of cinnamon toast waffles, creamy peanut butter and your favorite jelly. To cut back on sugar in a P B & J, simply omit the "J" (jelly) and use fresh fruit slices such as bananas, strawberries or apples instead.
Make an easy parfait. Add yogurt or cottage cheese to a bowl and top with frozen fruit and a sprinkle of crunchy granola. Get fancy by evenly layering each ingredient in a 6-ounce clear glass pedestal mug.
Have a bit more prep time?
Make some warm and cozy oatmeal. Add 1/3 cup old-fashioned oats and 2/3 cup milk (or the milk alternative of your choice) to a high-sided glass or ceramic bowl. Heat in the microwave on full strength for 1 minute, 30 seconds (or simply press the "oatmeal" button if equipped). Add frozen fruit such as blueberries or peach slices. Top with a handful or almonds, pecans or walnuts and sprinkle of brown sugar and cinnamon.
Make this quick and creamy Leggo my Eggo with Avocado and Goat Cheese.
Top a whole wheat waffle with a mash of avocado and goat cheese. Add a warm, over-easy style egg. Not a fan of goat cheese? Try mixing these easy variations:  avocado with lemon & basil, Cilantro & lime, Salsa, or a mixture of cumin & ancho chili powder.
Try these make-ahead Sunshine Breakfast Muffin Cups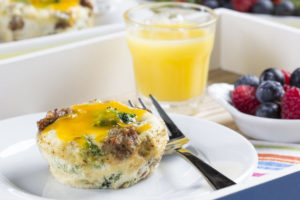 This recipe features a few shortcut ingredients from the freezer and refrigerated aisles including frozen broccoli florets, eliminating the need for cutting and chopping, ready-to-use cheese shreds, veggie breakfast sausage patties that you can easily thaw and chop with no pre-cooking needed, and liquid egg whites that are easy to pour, without needing to separate or beat. Plus there are no egg shells to crack or discard. Makes 6 egg muffins that store easily in the fridge until needed.

Pack a Healthy Lunch
Whether you're using a traditional lunch bag or trendy, reusable "bento" box designed to separate packed foods into pre-configured compartments, make a list of your kids' favorite lunch combination ideas to keep from getting into a packing rut. I use my list to plan my weekly grocery shopping and as a "cheat sheet" to guide early morning packing routines.
What is a Bento Box?
A Bento Box is a compact container, inspired by Japanese tradition, designed to hold single portions of individual, ready-to-eat foods. For example, a portion of rice or noodles, a portion of protein, such as meat, fish, egg or cheese, and an assortment of fruits or vegetables.
This Bento Box lunch combination is as easy as A, B, C!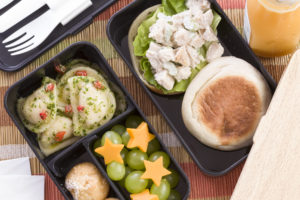 A. Chicken salad English Muffin: Top a refrigerated English muffin with mayo, Boston bibb lettuce, and a spoonful of chicken salad.
B, Chilled Pesto Pierogies: Prepare mini pierogies and toss with pesto and roasted red peppers.
C. All-Star Cheddar and Fruit: Slice block cheese into ¼ inch slices and use a star-shaped cookie cutter to make fun star-shaped cheese to serve with grapes!
What are your favorite breakfast and lunch menu ideas for back-to-school time? Share them with us on social media @EasyHomeMeals.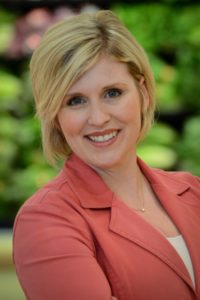 About the Author
Karen Buch, RDN, LDN is a central Pennsylvania-based Registered Dietitian Nutritionist with over 15 years of experience working in grocery retail. As Founder of Nutrition Connections LLC, Karen uses multi-media communications to help consumers make the connection between food, nutrition and health and provides consulting services to various clients within the food industry. Connect with her on Facebook, Twitter and Instagram.