March 12, 2022
Celebrating Global Flavors with Frozen Foods
National Nutrition Month® and Frozen Food Month are celebrated every year in March. Let's Celebrate a World of Flavors and nourish ourselves while appreciating the diversity of different cultures from around the globe. Just as people are unique with different bodies, goals, backgrounds and tastes, cultural foods are equally unique and diverse.
Now, whenever a craving strikes for traditional Italian, Mediterranean, Mexican or Asian flavors, crave-worthy options can be found right in the freezer section of the local supermarket.
Italian On the Go
In Italy, meals are not typically eaten quickly, therefore take-out, or food to "take away" is not as popular as in the United States. American consumers want delicious meals that are convenient and portable. Luckily, when you want a single-serve Italian meal on-the-go, you can turn to the authentic flavors of Michael Angelo's® frozen meals in Eggplant Parmigiana, Vegetable Lasagna, Pesto Chicken with Romano Cheese, Chicken Parmigiana, Chicken Cavatappi varieties and more.
Perfect Pasta
Whether it's tortellini, ravioli, manicotti, lasagna rolls or stuffed shells, Celentano® pasta is something I always keep in my freezer. Italian pasta is a delicious and versatile blank canvas that's just waiting for unique flavors and textures to be added. It's so easy to change up pasta night with flavorful sauces and plenty of fruits and vegetables.
Try these pasta variations:
Pesto—fresh basil, garlic, walnuts or pine nuts, lemon juice, and Parmesan tossed with ravioli or tortellini.
Marinara—pureed tomatoes, garlic, onion, olive oil and dried oregano served over manicotti, stuffed shells or lasagna rolls. Try adding baby spinach for an extra serving of greens or serve with tossed salad.
Cheese Tortellini Chicken Salad—diced apple, green onion, pineapple tidbits, grapes, cashews and light dressing tossed with cooked, diced chicken and tortellini.
Mediterranean Delights
The Mediterranean eating style—rich in fruits, vegetables, whole grains, seafood, legumes and olive oil—originated in regions around the Mediterranean Sea including Greece, Turkey, Italy and Spain. I was fortunate enough to travel to Greece for culinary nutrition education. My first-hand experience with the Mediterranean lifestyle continues to inspire me in the kitchen. In addition to the types of foods eaten, the practice of sharing and consuming food with others is a core principle.
Recently, I developed this Smoked Salmon Bites recipe using fully baked Athens® Mini Phyllo Shells. These shells are light, flaky and contain just 15 calories each. The appetizer features the flavor of roasted red pepper along with fresh cucumber, dill, scallions, and thinly sliced gravlax-style salmon prepared using the Nordic process of cold-curing with sugar, salt, and dill. I hope you'll give this recipe a try for your next gathering of family and friends.
Smoked Salmon Bites
2 (1.9-ounce; 15-count) boxes Frozen Mini Phyllo Fully-Baked Pastry Shells
4-ounces Sliced Smoked Salmon (Gravlax style), finely chopped (reserve 1 ounce for garnish)
1 (7.5-ounce) container whipped Roasted Red Pepper Cream Cheese Spread
1/2 cup Seedless Cucumber, very finely diced (reserve 1 Tbsp for garnish)
1 Fresh Scallion (aka Green Onion), chopped
4 Tbsp Fresh Dill, chopped; (reserve 2 Tbsp whole sprigs for garnish)
Makes: 30 bites
Prep time:  20 minutes
Instructions:
1. Preheat oven to 350 degrees.
2. In a medium bowl, stir cream cheese, cucumber, scallion, and salmon to combine.
3. Spoon 1 ½ teaspoons of the mixture into each pastry shell.
4. Place filled pastry cups in rows on a sheet pan.
5. Bake, just until warm throughout, about 8 to 10 minutes.
6. Remove from the oven; garnish as desired with cucumber, salmon, and dill. Serve.
Meatballs with International Flair
Traditional meatballs contain equal portions meat and soaked bread, egg and vegetables and are common to many cultures around the world including Italian, Turkish, Swedish and more. Rosina® oven-baked meatballs are seared and flash frozen to lock in taste and they go from freezer to oven to table in just 20 to 35 minutes. Choose from Italian Style, Homestyle, Swedish, Angus Beef, Gluten-Free or a leaner and lighter Turkey variety flavored with Italian spices.
Taco Tuesdays
A staple food of Mexican silver miners in the 18th century and a "street food" in the U.S. in the 1900s, the taco has become a mainstream favorite in American culture. Celebrate Taco Tuesdays fiesta-style with José Olé® Beef & Cheese Mini Tacos, made with tender cuts of meat, real cheese, oven-baked tortillas and authentic seasonings and spices. The "mini" size is perfect for smaller appetites or portion-controlled snacks and appetizers. Keep frozen until placing onto a baking sheet and into a pre-heated, 425-degree oven. Bake 7 to 10 minutes.
Authentic Asian flavors
The term potsticker ("jiaozi" in Mandarin) literally means "stuck to the wok", coined when a Chinese chef who walked away from boiling dumplings as the water boiled off and crisped the bottoms. Ling Ling® Chicken & Vegetable Mini Potstickers are popular as a side dish or lite snack. Six frozen mini postickers take just 50 seconds to prepare in the microwave and contain 120 calories per serving. Or opt for traditional stovetop preparation to lightly brown and crisp for extra flavor. Packets of dipping sauce are included. Bump up the veggies with a side of Pictsweet® Farms Edamame with Sea Salt or Air Fryer Seasoned Cut Asparagus Spears.
Restaurant Favorites at Home
No need for a trip to a Chinese restaurant when you can pick up InnovAsian® General Tso's Chicken six-serving meal right in the freezer aisle of the grocery store. Crispy chicken breast tempura is tossed with an Asian-style BBQ sauce made with garlic, Guajillo peppers and a touch of sweetness. While its baking in for 18 minutes in the oven, you'll have time to make rice on the stovetop. In a medium saucepan, add 2 cups rice and 4 cups water. Bring to a boil, cover, and reduce heat to simmer for 18 minutes. It's ready when all water is absorbed. During the last 5 minutes of cook time, microwave a bag of Green Giant® Simply Steam™ Broccoli Florets. Toss together broccoli with the prepared chicken mixture to serve over rice.
 What are your favorite ethnic frozen foods? Share with us on social media @EasyHomeMeals.
About the Author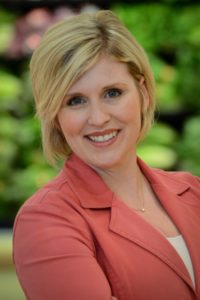 Karen Buch, RDN, LDN is a central Pennsylvania-based Registered Dietitian Nutritionist with over 15 years of experience working in grocery retail. As Founder of Nutrition Connections LLC, Karen uses multi-media communications to help consumers make the connection between food, nutrition and health and provides consulting services to various clients within the food industry.