January 11, 2022
5 Ways to Dress up Your Drink for National Milk Day
Did you hear the MOO-velous news? January 11 is National Milk Day! Today commemorates the day that it's believed the first milk deliveries in glass bottles began in the United States in 1878[1].
Here are some simple ways to incorporate milk and/or plant-based alternatives into your diet:
During lunch, replace juice or soda with a glass of plain milk or chocolate milk
Enjoy a bowl of cereal with milk for breakfast
Add milk to your morning cup of Joe
Make scrambled eggs with milk instead of water for fluffier eggs
Blend up a fruit smoothie using milk for breakfast, snack or dessert
We've rounded up five of our favorite ways to dress up your glass of milk.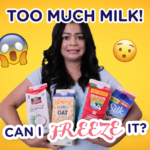 Milk going to expire before you can use it? Check out our video that answers the question: Can I Freeze Milk?
Even if you're lactose intolerant, you can still enjoy a glass of lactose-free milk. And today there are also many plant-based alternatives like soy, almond, cashew, coconut, flax and pea.
What's your favorite way to get more milk in your diet? Share with us @EasyHomeMeals.
[1] https://nationaldaycalendar.com/national-milk-day-january-11/