June 4, 2021
18 Recipes to Cheese It Up for National Cheese Day
Say cheese – it's National Cheese Day! There's no better time to celebrate than during June Dairy Month. If we could choose a favorite food, it would definitely be cheese. It makes every meal tastier! Cheese is one of the world's oldest foods that we still eat today [1]. The oldest known cheese was discovered in China from 1615 B.C [2]. Even after thousands of years, cheese is still a household favorite. Thankfully, there are many ways to celebrate National Cheese Day. Try making some of our favorite cheesy recipes!
Delicious Dinners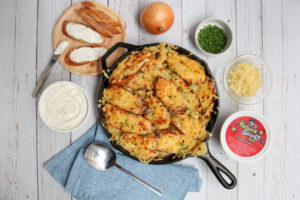 Warning! This Fully Loaded French Onion Chicken will be devoured by anyone around them.
Yum, yum and yum! The Pesto Mozzarella Panini is everything you are looking for.
You can't have Mexican food without cheese! Try this Chicken and Cheese Enchiladas recipe.
Pizza is everyone's favorite! Make-Your-Own Pizza at home with this easy recipe.
They're not called "stuffed" shells for nothing! These Eight-Cheese Stuffed Shells will have you full for the rest of the night.
With it's South-of-the-border flavor, this Chili-Mac Skillet recipe is hearty and satisfying.
Satisfying Sides and Snacks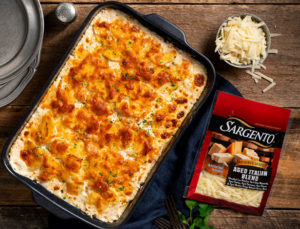 Nothing beats this Alfredo Potatoes Recipe with it's golden, delicious potatoes covered in creamy cheeses.
This Cheesy Garlic Pull-Apart Loaf is absolutely irresistible.
After making this Cheesy Beer Dip you will be forced to make it for every get together!
Cracker Barrel Bites are the perfect cheesy on-the-go snack that comes in plenty of varieties!
Who doesn't love nachos? This Pub Style Nachos Recipe is always a crowd pleaser.
These Heluva Good! Potato Skins are the perfect cheesy side.
Three-Cheese Pinwheels are definitely "cheesy" on the eyes and tasty on the tongue.
Cheesy Treats
Deep-Dish Layered Banana Pudding serves plenty but it always go fast!
Yum! We are so thankful these delicious Strawberry Cheesecake Cookie Cups exist.
Try making this Creamy Raspberry Fruit Dip for a healthier cheese treat.
Frozen, chocolate and cheesecake? These Frozen Cheesecake Squares are right up our alley!
Lemon Cheese Tarts are the best way to enjoy a cheesy dessert!
We can't wait for you to try out all of these cheese-tastic recipes. Share your favorite cheesy recipes (and puns) with us on social media @EasyHomeMeals!
[1] https://nationaltoday.com/national-cheese-day/