July 7, 2021
15 Marvelous National Macaroni Day Meals
July 7th is National Macaroni Day! While Independence Day is over, National Macaroni Day gives us another reason to celebrate! Macaroni is one of the only foods that adults and kids can agree on. With macaroni being so versatile, it can be enjoyed by all ages in many different dishes. So whether you're eating mac and cheese, making macaroni jewelry or trying it with something new, there are a lot of ways to give macaroni the marvelous recognition it deserves.
Check out our favorite ways to celebrate this food holiday!
Macaroni Recipes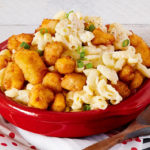 This Lobster Mac N Cheese Recipe will have everyone wishing they had an endless amount!
Spicy and cheesy, the Skillet Chili Mac will hit all the right taste buds.
Yum! Beer Cheese Mac and Cheese will be the most flavorful option on the table.
The Mac N Cheese Pizza Recipe combines everyone's two favorite foods into one!
These cheesy, bite-sized Jalapeño Pepper Mac and Cheese Cups are perfect if you have a taste for entertaining.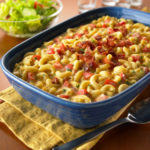 Life is better with bacon! This amazing Bacon & Tomato Macaroni 'n Cheese recipe will hit the spot.
This homey Macaroni and Cheese Soup is the perfect way to warm up any meal.
Try macaroni in a different way by trying this Mac and Cheese Taco recipe.
Mac & cheese is always quick & easy with this Instant Pot® Macaroni & Cheese recipe!
The Mac and Cheddar Cheese Curds is the cheesiest of mac and cheeses. Yum!
Macaroni Frozen Meals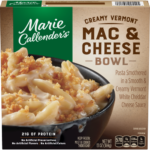 Frozen products are the best products! Try this insanely tasty Chipotle Chicken Mac & Cheese.
After your kids try Wagon Wheels Mac & Cheese, you'll be running to your frozen aisle for more!
The Creamy Alfredo Mac and Cheese with Bacon bowl will be your new favorite lunch.
The frozen aisle is versatile and delicious with this Gluten Free Uncured Bacon Mac & Cheese meal!
Marie Callender's Creamy Vermont Mac & Cheese Bowl with breadcrumbs is simply amazing!
Tell us which macaroni recipes and products you love the most by sharing with us on social @EasyHomeMeals!