Bacon & Tomato Macaroni 'n Cheese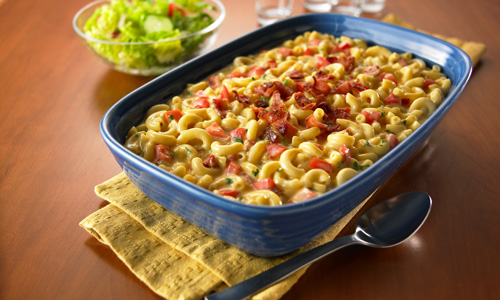 Recipe At A Glance
0 ingredients
15-30 minutes
8+ Servings
Bacon mac and cheese takes the flavors of a classic sandwich and a favorite comfort food and combines them in this hearty dish.
©2014 Land O'Lakes, Inc.
Sponsored By

Recipe Ingredients
12 oz. (3 cups) uncooked elbow macaroni
1/4 cup Land O Lakes® Butter with Olive Oil
2 Tbsp. all-purpose flour
1/2 tsp. salt
1/4 tsp. ground nutmeg
1/8 tsp. ground red pepper
1 1/2 cups milk
8 oz. (2 cups) Land O Lakes® American, cut into 1/2-inch cubes
8 oz. (2 cups) shredded sharp Cheddar cheese
1 medium (1 cup) tomato, seeded, chopped
4 slices (1/3 cup) crisply cooked bacon, crumbled
1/4 cup coarsely chopped parsley
Crumbled bacon, if desired
Recipe Directions
Cook macaroni according to package directions; drain.
Melt Butter with Olive Oil in 3-quart saucepan over medium heat until sizzling; stir in flour, salt, nutmeg and ground red pepper. Continue cooking, stirring constantly, 1-2 minutes or until mixture is bubbly and very lightly browned. Add milk, 1/4 cup at a time, stirring constantly, 5-7 minutes or until mixture is thickened. Add cheeses; stir until melted and sauce is smooth. Add cooked macaroni, tomato, 1/3 cup crumbled bacon and parsley; stir until well mixed.
Garnish with additional crumbled bacon, if desired.