June 1, 2023
Celebrate June Dairy Month with Easy Home Meals!
At last, June Dairy Month is here, and it's time to celebrate the cool possibilities that can be found in the refrigerated dairy aisle!
Origin of June Dairy Month
"Dairy Month" was first established in 1937 as "National Milk Month." Its goal was to encourage families to drink more milk. Since then, it's expanded to celebrate all types of dairy products, from ice cream to cheese to yogurt. The Easy Home Meals brand is sponsored by the National Frozen & Refrigerated Foods Association, whose June Dairy Month national promotion has shared positive messaging around dairy products for 21 years!
June Dairy Month Sweepstakes
You can join in the June excitement by entering our June Dairy Month $10,000 Sweepstakes. From now through June 30th, you have the chance to win a supermarket gift card valued at $500 or our Grand Prize $1,000 gift card!
Nutrition Benefits of Dairy
When eaten as part of a balanced diet, dairy can help your bone and cardiovascular health! Many dairy products are rich in calcium, vitamin D and phosphorus, which help build strong and healthy bones. Dairy foods can also contain high levels of potassium, which can help lower blood pressure.
Our partner the Mr. Food Test Kitchen released a June Dairy Month video all about the benefits of the refrigerated dairy aisle, so stay tuned! Plus, they'll be sharing an amazing Lemon Ricotta Cheesecake Recipe! This innovative pie uses a variety of products that can be found in the refrigerated dairy aisle, including cream cheese, ricotta and yogurt.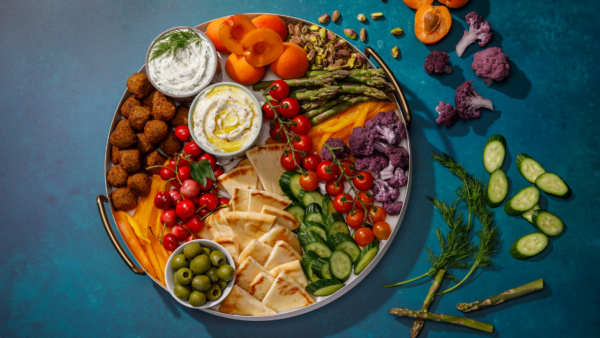 Dairy Recipes to Try for June Dairy Month
To help kick off the June Dairy Month promotion in your own kitchen, try the tasty recipes below! They were featured in a recent video media tour with our partner Chef Jamie Gwen. You'll have to stay tuned for the video, but for now you can get cooking.
Cheese Recipes
Melted mozzarella, sharp cheddar and an Italian cheese blend turn this tomato tart into the perfect cheesy summer meal.
This baked mac and cheese uses three different types of cheese to create the ultimate comfort dish that the whole family will love.
Milk Recipes
A berry milkshake meets a crisp cobbler topping for a creamy, sippable version of a classic dessert!
Chocolate milk gets an upgrade that's packed with protein and potassium, perfect for an after-school treat.
You can still join in the fun of June Dairy Month if you're dairy free! Cold brew gets a kick of flavor from toasted marshmallow dairy-free creamer and a dollop of marshmallow crème.
This make-ahead breakfast gets added flavor from a buttery hollandaise made even richer by a hint of whipping cream.
Yogurt Recipes
Whether you're craving a snack by the pool or want the perfect dessert for a hot summer night, these fruit and yogurt pops are a light yet satisfying treat.
A yogurt-based tzatziki and creamy Greek feta dip are the stars of this fresh snack platter packed with veggies.
Cream Cheese Recipes
Cream cheese is the secret ingredient that makes this honey and orange pull-apart bread so decadent. Bring it to a brunch and wow your friends and family!
Need the perfect dip for the big game? Our Southwest Party Dip includes sour cream, cream cheese and a Mexican cheese blend for a fun and zesty snack.
Ice Cream Recipes
Strawberry ice cream meets lemon curd and sugar cookie dough to make this sweet and tart dessert.
All the fun of s'mores without the campfire! Roll chocolate ice cream balls filled with chocolate candy and marshmallows in graham crackers for a s'mores treat you can enjoy all year round.
June Dairy Month Fun Facts
Besides making delicious recipes, you can celebrate June Dairy Month by sharing some fun facts about dairy with your family and friends!
Did you know …
National Milk Month started in 1937 to encourage more people to drink milk, especially during the summer months. It would be renamed "National Dairy Month" in 1939.
Dairy cows eat about 110-120 pounds of food per day.
The average American eats about 20 pounds of ice cream each year (that's roughly 4 gallons of ice cream per person!).
The most popular type of cheese in the United States is cheddar cheese.
Wisconsin produces the most cheese of any state in the U.S. That's why they call it America's Dairyland!
Other ways to participate in June Dairy Month are to check out the delicious products our June Dairy Month sponsoring brands offer!