July 30, 2021
Say Cheeeeeeesecake! Nine Indulgent Recipes for National Cheesecake Day
If any dessert deserves the national spotlight, it's cheesecake. Rich and creamy with a touch of tang and a crunchy crust, what's not to love? Plus, you can flavor them with just about anything – chocolate chips, fresh fruit, chocolate sauce, nuts, chocolate pieces, citrus, chocolate cookies…not that we have a favorite or anything.
Whether you prefer the extra indulgent New York style or the traditional Philadelphia style's lighter texture, there's a cheesecake to satisfy just about anyone's sweet tooth. So break out your springform pans – we're serving up nine delicious ways to celebrate with these easy-to-make cheesecakes.
Combine. Stir. Bake. It doesn't get simpler from scratch than this classic crowd-pleaser. Serve as-is or make it extra special with fresh berries or fruit!
This finger-food-friendly is perfect for large gatherings or outdoor cookouts. The sour cream gives the richness a lighter note to keep the get-together going.
EDWARDS® ORIGINAL WHIPPED CHEESECAKE
Looking for a cheesecake cheat code? Pick up EDWARDS! This frozen, grab-and-go dessert is a delicious option when you don't have time to make one from scratch.
These adorable minis use cupcake tins, chocolate wafer cookies and low-fat yogurt for delightfully cute bite-size treats. Don't be afraid to have two….or six!
PEANUT BUTTER CHOCOLATE CHIP CHEESECAKE
Chocolate on the bottom, peanut butter on top and a whole bunch of rich deliciousness when it comes together. This classic flavor combination is an indulgent addition to any gathering.
BERRY CHEESECAKE ICE CREAM SQUARES
Switch up a traditional cheesecake with this ice cream-based, snack-sized dessert! It brings together salty butter crackers, sweet strawberry ice cream and fresh strawberries for a treat that screams summer.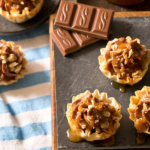 NO-BAKE TURTLE CHEESECAKE PHYLLO CUPS
Why turn on the oven when you can make these delicious no-bake turtle cheesecakes with simple phyllo shells?
If you're short on time but still want to create a homemade dessert, start with a store-bought cheesecake and fancy them up in no time with this shortcut recipe.
This amazing no-bake cheesecake takes just a handful of ingredients and 10 minutes to prep. It's sure to dominate the dessert table.
What's your favorite flavor of cheesecake? Share with us on social media @EasyHomeMeals.