Why Did the Chicken Cross the Road?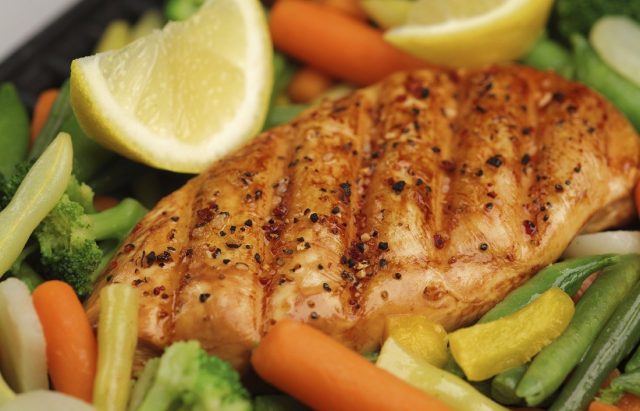 ….to celebrate National Chicken Month! That's right, there's an entire month to honor the tasty, original white meat! Did you know that Americans consume more chicken than anyone else in the world – 83.6 pounds per capita[1]. The U.S. also has the largest broiler chicken industry of the world. But what's a broiler? That's the name given to chickens that are raised to be eaten[1]. While pork has been the favored meat for some time, chicken is expected to become the world's most consumed meat over the next 5 years. In fact, the world's appetite for poultry is inclining faster than any other meat[2]. But why is chicken so popular?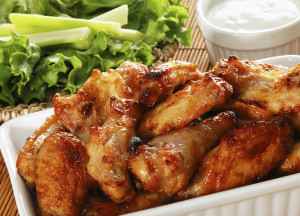 One reason is that chicken consists of high-quality protein (that is, protein that contains the eight essential amino acids) and a relatively low amount of fat. Ounce for ounce, the highest-fat portion of the chicken is the skin, with 41 grams of fat per 100 grams. Typically only a small portion of skin is normally eaten (except in dishes such as "wings"), and removing it will eliminate those calories. However, the skin can be left on during cooking to keep the chicken moist without adding calories to the meat[3].
Chicken is also popular because it can be prepared and cooked in so many ways. It can be made into sausages, patties, strips, bite-sized pieces, skewered, put in salads and soups, grilled, baked, sautéed, breaded and deep-fried. Whether you like the bone in or bone out, the breast, the thighs, wings or nuggets, chicken is one of the most versatile proteins.
Here are some important tips for preparing and cooking raw chicken[4]:
Safety – Always wash hands, preparation surfaces and utensils in hot, soapy water before and after contact with raw chicken. Never allow cooked chicken to sit at room temperature for more than 2 hours. If it is not eaten immediately, cooked chicken should be kept hot or refrigerated.
Thawing – Thaw chicken in the refrigerator, in the microwave or under cold running water – never on the countertop at room temperature, which provides bacteria with an ideal temperature to grow. When thawing chicken in the refrigerator, be sure to place the raw chicken on a plate on the bottom shelf to prevent the raw juices from dripping onto other foods or fridge surfaces.
Cutting – Cut boneless skinless chicken breasts when chicken is partially frozen; it's much easier and safer.
Storing – Store packaged fresh chicken in the coldest part of the refrigerator. Freeze uncooked chicken if it is not to be used within 2 days. If properly packaged, frozen chicken will maintain top quality in the freezer for up to 6 months.
Freezing – If you use boneless, skinless chicken breasts often in recipes, package them for the freezer in recipe-size portions. This lets you thaw only the amount you need and prevents extra pieces of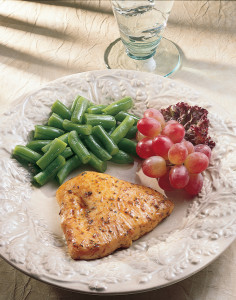 raw chicken from spoiling.
Cooking -Always cook chicken until well done, not medium or rare. When checking poultry for doneness, use a meat thermometer to check the temperature in the thickest part of the thigh (taking care to avoid any bones) and the thickest part of the breast. When the thermometer registers 165°F, the chicken is done. When the chicken is completely cooked, the juices should run clear.
Grilling – Always marinate chicken in the fridge prior to grilling. Marinade in which raw chicken has been soaking should never be used on cooked chicken. Do not place cooked chicken on the same plate used to transport raw chicken to the grill. 

If you're in a pinch and don't have the time or storage space to buy and keep uncooked chicken, there's always the option of pre-cooked, frozen chicken. There are endless reasons why buying frozen chicken is an economical and efficient way to keep it readily available in your household! The flash freezing process locks in nutrition, texture and the freshness of chicken – so you don't have to worry about when you move those raw chicken breasts to the freezer. Pre-cooked, frozen chicken is convenient and saves time because it eliminates the additional steps it takes to prepare chicken (who seriously enjoys cutting up raw chicken?). It also eliminates food waste and spoilage, since it has a much longer storage time than fresh chicken (6-9 months) and can be kept in the freezer until it's needed.
Here's some of our favorite kinds of pre-cooked, frozen chicken:
Wings
Wings can be made with so many variety of sauces, as well as dips to pair them with!
2014 marks the 50th anniversary of the first "Buffalo Wing" being sauced and tossed at the Anchor Bar in Buffalo, New York[6].
According to the National Chicken Council, approximately 1.25 billion wings were devoured during Super Bowl XLVIII[7].
Eliminate the work for your tailgate by combining ready-made frozen wings with this Creamy Mediterranean Dip!
Chicken Strips/Tenders
Grilled –  wholesome chicken perfectly grilled and sliced to add to your favorite dish with no prep involved.
For a healthy and unique lunch or dinner option, make these delicious 

Asian Lettuce Wraps with Mustard Vinaigrette

.
Breaded – whether you're in need of a late-night snack or convenient dinner, breaded chicken strips and/or tenders won't disappoint!
Put a spin on your standard chicken strips by using them in a citrusy recipe like Orange Chicken Stir-Fry.
Chicken Nuggets
The chicken nugget was developed in 1963 by a food science professor named Robert C. Baker at Cornell University[8].
Most chicken nuggets start as a split breast of chicken. Other boneless chicken meat, from the legs and thighs, for
example, could be added. The meat is then ground and formed, just like you would form a meatball from ground beef[9].
Kids (and those young at heart) will absolutely love these dinosaur shaped Fun Nuggets for an afternoon snack or fun-loving dinner!
Chicken Breasts/Fillets/Patties
Whether you're craving a juicy chicken sandwich, or using them to make all kinds of finger-lickin' dishes (without the prep involved with using raw chicken), they're oh-so perfect!
Turn your favorite flaky roll into a yummy snack or appetizer for your guests—whip up Cheesy Crescent Chicken.
Chicken is, if not the most, versatile protein there is. With so many ways to purchase, prepare, cook and flavor chicken, you can't go wrong! We want to know… what's your favorite way to have chicken? Share in the comments below and have a be sure to celebrate Chicken Month!
[1] http://www.nationalchickencouncil.org/about-the-industry/statistics/broiler-chicken-industry-key-facts/
[2] http://www.washingtonpost.com/blogs/wonkblog/wp/2014/07/14/the-coming-global-domination-of-chicken/ 
[3] http://www.nationalchickencouncil.org/chicken-the-preferred-protein-for-your-health-and-budget/
[4] http://www.kraftrecipes.com/RECIPES/DINNER/CHICKEN-RECIPES/all-about-chicken/main.aspx
[5] http://www.eatchicken.com/chicken-cooking-tips-food-safety.aspx 
[6] http://www.businessinsider.com/the-history-of-the-chicken-nugget-robert-baker-2012-12
[7] http://www.nationalchickencouncil.org/americans-eat-1-25-billion-chicken-wings-super-bowl/
[8] http://www.businessinsider.com/the-history-of-the-chicken-nugget-robert-baker-2012-12
[9] http://www.nationalchickencouncil.org/whats-in-those-chicken-nuggets/