Whole Wheat Cut-Out Sugar Cookies with Naturally Colored Frosting
Recipe At A Glance
11 ingredients
Over 30 minutes
8+ Servings
Your kiddos won't be able to tell the difference with Real Mom Nutrition's Whole Wheat Cut-Out Sugar Cookies using Land O'Lakes butter!
Featured Product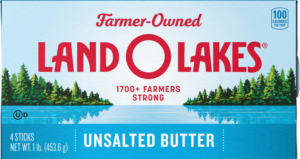 Land O Lakes® Unsalted Stick Butter
Recipe Ingredients
Cookies:
1 cup (2 sticks) Land O'Lakes unsalted butter softened
1 cup granulated sugar
1 tsp. vanilla extract
1 large egg
2 tsp. baking powder
3 cups whole wheat pastry flour*
Frosting:
1/2 cup (1 stick) Land O'Lakes butter softened
4 cups powdered sugar
1 tsp. vanilla extract
2-3 Tbsp. beet or spinach juice
1-2 drops almond extract optional (will help mask any beet flavor)
Recipe Directions
Cookies:
Preheat oven to 400 degrees F. Move top rack to top one-third of oven.
Cut butter into chunks. In a standing mixer, cream together butter and sugar. Add egg and vanilla and blend well.
In a separate bowl, combine baking powder and flour.
Add flour mixture to butter mixture, one cup at a time, blending well after each addition. Combine just until all blended. Dough will be stiff. Do not chill.
Divide dough into two balls. On a floured surface, roll each ball into a circle 1/8 inch thick. Cut out cookies and bake for 6-7 minutes.
Let cookies sit one minute, then remove to a wire rack to cool completely before frosting.
Frosting:
Combine butter and sugar with a standing or hand mixer.
Add vanilla extract.
Add beet or spinach juice, one teaspoon at a time, until you achieve the consistency you want.
Recipe Notes:
*Whole wheat pastry flour is essential to this recipe. If you can't find whole wheat pastry flour and only have regular whole wheat flour, follow the recipe above using 1 ½ cups all-purpose flour and 1 ¼ cups whole wheat flour (measure the amounts, then sift together). We tested them using that ratio and they came out well.