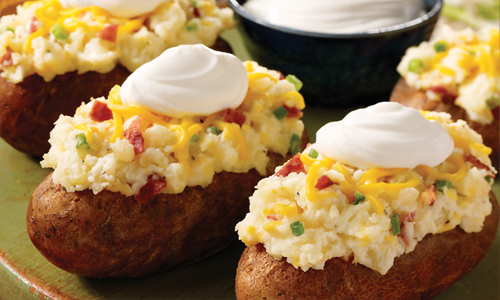 Recipe At A Glance
11 ingredients
15-30 minutes
8+ Servings
Twice as good!
Sponsored By

Recipe Ingredients
8 medium Russet potatoes
4 strips diced turkey bacon
3 finely chopped scallions
2 1/2 c. shredded sharp cheddar cheese
2 Tbsp. unsalted butter
1 c. Daisy® Sour Cream
1/4 c. heavy cream
1/2 c. whole milk
1 heavy pinch salt
1 heavy pinch pepper
1 heavy pinch chili powder
Recipe Directions
Preheat oven to 400 degrees. Thoroughly wash and dry potatoes. Wrap in aluminum foil and bake for 30 minutes. Remove from oven. Poke holes in the potatoes and return to oven for another 30 minutes or until easily pierced with a fork. Meanwhile, fry and chop the bacon. Chop the scallions. Remove the potatoes and cool for 10 minutes. Lower oven temperature to 350 degrees. Slice off the top 1/3 of each potato lengthwise. Holding each with a clean towel, hollow out the potato skins with a spoon leaving about 1/4" of the potato on the inside to prevent potato from falling apart during baking. In a large bowl, combine potato interior, butter, Daisy® Sour Cream, 1/2 c. of the cheddar cheese, heavy cream, milk, salt, and pepper. Mash until smooth. Stir in bacon and scallions. Fill each potato skin with the mixture. Top with remaining 2 c. of cheddar cheese. Sprinkle each with chili powder as desired. Bake for 15 minutes or until cheese melts. Serve immediately.