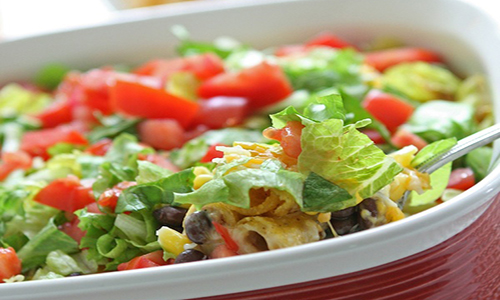 Recipe At A Glance
8 ingredients
15-30 minutes
8+ Servings
From a simple Cinco de Mayo celebration to a backyard BBQ, our Cool Food Panelist, Alison from Ingredients Inc., has the perfect dish to show your guests your southwestern spicy side—Taquito Layered Dip!
Recipe Ingredients
1 (20-oz.) pkg. Taquito Chicken
1 1/4 cups refrigerated cheese dip
2 cups frozen corn, thawed
1 (15.5-oz.) can black beans, rinsed and drained
1 1/2 cups shredded Mexican cheese
1 1/2 cups chopped lettuce
1 3/4 cups chopped fresh tomatoes
Tortilla chips
Recipe Directions
Preheat the oven to 350F.
Slice each taquito into 1-inch slices. Microwave according to package directions. Place evenly in a lightly greased 9X9-inch baking dish. Drizzle with cheese dip and bake 5 minutes.
Remove from oven and top with corn, black beans and shredded cheese. Return baking dish to the oven and bake 5 minutes more until cheese is melted.
Remove from oven and top with lettuce and tomatoes; serve with tortilla chips.
Other Recipes You Might Like