Strawberry Rhubarb Monkey Bread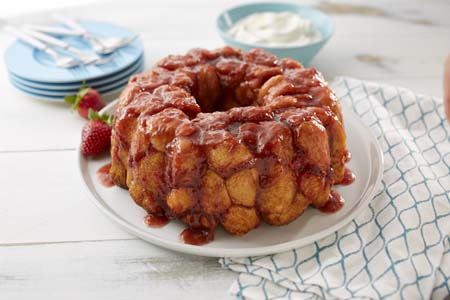 Recipe At A Glance
11 ingredients
15-30 minutes
8+ Servings
A classic reimagined. Fresh, springtime flavors compliment this breakfast bread favorite.
Sponsored By

Recipe Ingredients
Sauce
1 cup chopped rhubarb, thawed and drained if frozen
1 cup sliced fresh strawberries
1/2 cup sugar
1/2 cup water
Bread
24 frozen dinner rolls, thawed, cut into quarters
1/2 cup Land O Lakes® Butter, melted
3/4 cup sugar
2 tablespoons firmly packed brown sugar
1 1/2 teaspoons ground cardamom
1/2 teaspoon ground nutmeg
Land O Lakes® Heavy Whipping Cream, whipped, if desired
Recipe Directions
Heat oven to 350°F. Spray 10-cup Bundt® pan with no-stick cooking spray. Set aside.
Place all sauce ingredients into 2-quart saucepan; cook over medium-high heat, stirring occasionally, 10 minutes or until fruit is softened. Remove from heat. Using potato masher, crush fruit until no large pieces remain. Pour half of sauce into prepared pan. Set remaining aside.
Combine 3/4 cup sugar, brown sugar, cardamom, and nutmeg in large bowl. Dip dough pieces in melted butter, then roll in sugar mixture to coat. Place half of dough pieces into prepared pan; top with remaining fruit sauce and remaining dough pieces.
Bake 45-55 minutes or until golden brown. Let stand 5 minutes in pan. Invert onto serving plate. Serve with whipped cream, if desired.
Other Recipes You Might Like