Strawberries and Cream Pancakes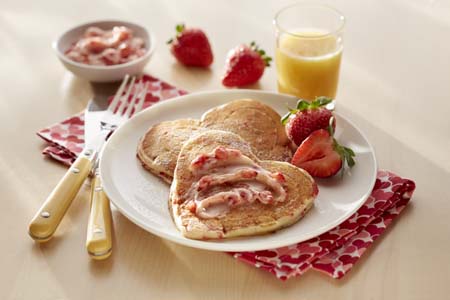 Recipe At A Glance
14 ingredients
Under 15 minutes
5 Servings
Show the love this Valentine's Day with heart-shaped pancakes and homemade strawberry butter.
Sponsored By

Featured Product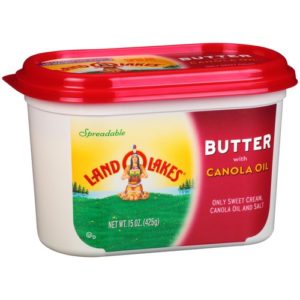 Land O Lakes® Butter with Canola Oil
Recipe Ingredients
Strawberry Butter
1/2 cup Land O Lakes® Butter with Canola Oil
1/2 cup chopped fresh strawberries
2 tablespoons strawberry jam
Pancakes
1 cup all-purpose flour
2 teaspoons baking powder
1/2 teaspoon baking soda
1/4 teaspoon salt
4 ounces (1/2 cup) cream cheese, softened
1 large Land O Lakes® Egg
1 cup buttermilk*
3 tablespoons Land O Lakes® Butter, melted
2 tablespoons sugar
1 tablespoon red jimmies sprinkles
Powdered sugar, as desired
Recipe Directions
Combine all strawberry butter ingredients in medium bowl. Using potato masher, mash until well combined. Cover; refrigerate until serving.
Combine flour, baking powder, baking soda and salt in medium bowl. Set aside.
Beat cream cheese and egg in large bowl until well combined. Stir in buttermilk, melted butter and sugar until combined. Add flour mixture, stirring just until combined. Add sprinkles, stir just until combined. Do not over mix. Batter will be thick and lumpy.
Heat lightly greased griddle to 350°F or until drops of water sizzle on surface.
Pour batter into squeeze bottle. Squeeze batter into heart shapes onto griddle, using about 1/4 cup batter per pancake. Cook 2-3 minutes or until bubbles form on surface. Turn; continue cooking 1-2 minutes or until light brown.
Serve warm with strawberry butter and powdered sugar.
*Substitute 1 tablespoon vinegar or lemon juice plus enough milk to equal 1 cup. Let stand 5 minutes.