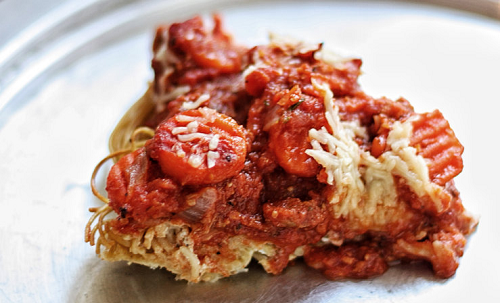 Recipe At A Glance
13 ingredients
15-30 minutes
6 Servings
Our Cool Food Panelist, Estela from WeeklyBite is celebrating fall with her twist on the classic spaghetti and meatballs! Turn this classic pasta dish into a delicious pie your family will love with frozen meatballs and your oven!
Recipe Ingredients
12/ pkg. spaghetti
2-3 Tbsp. olive oil
1.5 cups cooked frozen turkey meatballs
1/2 cup chopped frozen onions
1/2 cup chopped frozen bell peppers
1/2 cup frozen diced carrots
1 Tbsp. garlic powder
2 eggs
1 cup Parmesan cheese
1 cup Ricotta cheese
1 Tbsp. Italian seasoning
16-oz. jar of your favorite marinara sauce
3/4 cup mozzarella cheese
Recipe Directions
Preheat oven to 350F.
Spray deep pie dish with non-stick cooking spray. Boil spaghetti for no more than 10 minutes. Drain and coat with 1 tablespoon olive oil, set aside.
While the spaghetti's cooling, mix the ricotta, 1/2 cup Parmesan cheese and Italian seasoning. Set aide.
In a large saucepan, heat one tablespoon olive oil to medium heat, saute chopped onions, peppers and carrots for a few minutes until tender. Add turkey meatballs (frozen), garlic powder and marinara sauce. Add salt and pepper to taste. Let simmer until turkey meatballs are completely thawed. Set aside.
Whisk 2 eggs with 1/2 cup Parmesan cheese. Toss egg mixture into pasta. Pour pasta into pie dish and form a pie crust shape with the pasta. Spread ricotta cheese mixture over pasta. Pour meat and sauce over cheese mixture. Top with mozzarella.
Bake for 3 minutes. Once cooked, remove from oven and let set for about 15 minutes.
Other Recipes You Might Like