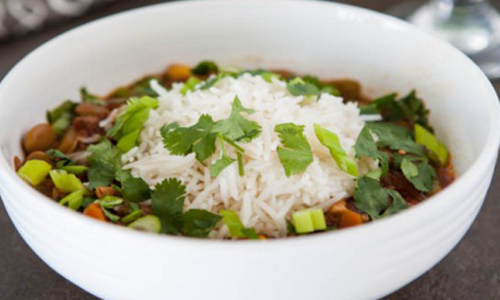 Recipe At A Glance
13 ingredients
Over 30 minutes
6 Servings
Our Cool Food Panelist, Angie from eclecticrecipes is staying warm and satisfied with her Slow Cooker Brunswick Stew! Using frozen vegetables, this is a dish that you can make and let sit while you're busy with cold weather activities. Then, come home and enjoy a warm, delicious stew!
Recipe Ingredients
1 1/4 lb. pork loin roast
1/2 medium onion, diced
1 medium green bell pepper, diced
1 medium carrot diced
1/2 cup BBQ sauce
1 14-oz. can diiced fire roasted tomatoes
1 qt. chicken stock
10-oz. pkg. baby lima beans
10-oz. pkg. corn
1 large potato, peeled and diced
cooked white rice
For garnish:
diced oinions
roughly chopped Italian parsley
Recipe Directions
Add pork, onion, bell pepper, carrot, BBQ sauce, tomatoes and chicken stock to slow cooker. Cover and turn to low. Cook for 6-8 hours, or until pork has fall to pieces.
Add butter beans, corn and diced potato. Turn to high and cook for 2 hours, or until potatoes are tender. Serve with or without rice, garnished with fresh Italian parsley and diced green onions.
Other Recipes You Might Like