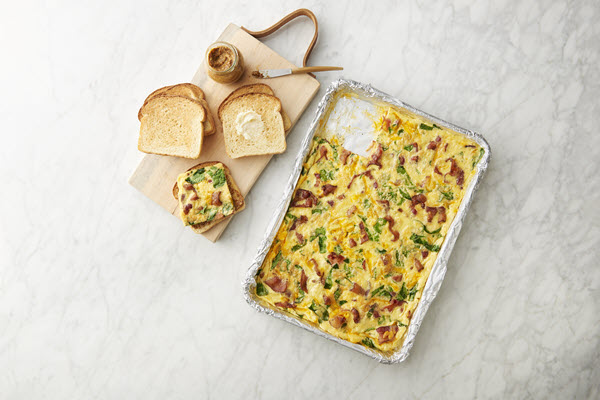 Recipe At A Glance
13 ingredients
15-30 minutes
8+ Servings
Whether for meal prep or large family brunches – baking the egg bake in a sheet pan makes sandwiches easy. Slice and sandwich between toast for a hearty breakfast all week!
Sponsored By

Featured Product
Land O Lakes® Butter with Canola Oil
Recipe Ingredients
2 tablespoons LAND O LAKES® Butter with Canola Oil
1 cup roughly chopped fresh spinach
12 ounces cooked thick-cut bacon, chopped into 2-inch pieces
1 cup shredded Cheddar cheese
12 large LAND O LAKES® Eggs
1/2 cup LAND O LAKES® Heavy Whipping Cream
1 teaspoon hot pepper sauce
1/2 teaspoon garlic powder
1/2 teaspoon pepper
16 slices English muffin bread, lightly toasted
16 teaspoons LAND O LAKES® Butter with Canola Oil
8 teaspoons spicy brown mustard
8 slices beefsteak tomato, if desired
Recipe Directions
Heat oven to 400°F. Line 15x10x1-inch baking pan with aluminum foil. Place 2 tablespoons butter with canola oil onto foil. Bake 1 minute; spread melted butter with canola oil over foil.
Place spinach, bacon, and Cheddar cheese evenly in pan.
Combine eggs, whipping cream, hot pepper sauce, garlic powder, and pepper in large bowl. Whisk until eggs are light, fluffy and pale yellow. Pour egg mixture into prepared pan. Bake 14-17 minutes or until center of eggs is set.
Spread each piece of toast with 2 teaspoons butter with canola oil. Spread 8 slices with 1 teaspoon mustard.
Cut egg dish into 8 pieces. Place 1 piece of egg bake onto toast slices with mustard. Top with 1 slice tomato, if desired. Place second slice of toast, buttered-side down to create sandwiches. Serve immediately.