Salted Caramel Browned Butter Chocolate Chip Bars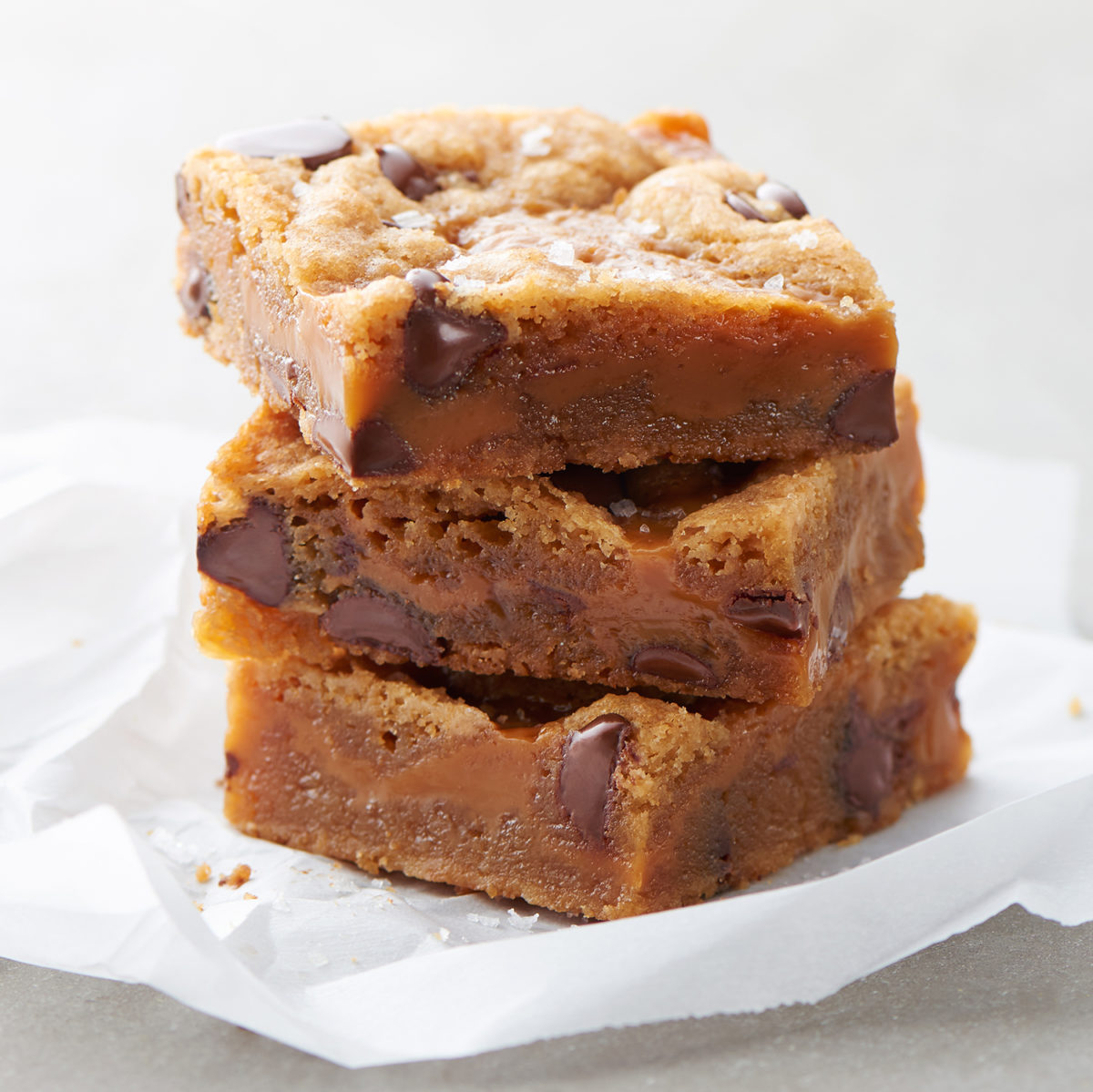 Recipe At A Glance
11 ingredients
Over 30 minutes
8+ Servings
Browned butter chocolate chip cookie dough stuffed with salted caramel – what's not to love? Bring these dessert bars to your next cookout, or have on hand for a snack.
Sponsored By

Featured Product
Land O Lakes® Butter
Recipe Ingredients
3/4 cup Land O Lakes® Butter
1 1/2 cups firmly packed brown sugar
2 large Land O Lakes® Eggs
1 tablespoon vanilla extract
1 1/2 cups all-purpose flour
1 teaspoon baking powder
1/2 teaspoon salt
1 cup chocolate chips
1 (11-ounce) bag caramels, unwrapped
3 tablespoons Land O Lakes® Heavy Whipping Cream
1/2 teaspoon coarse sea salt
Recipe Directions
Melt butter in heavy 2-quart saucepan over medium-high heat. Continue cooking, watching closely, 5 minutes or until butter foams and turns deep golden brown. Immediately remove from heat; pour into large bowl. Refrigerate 15 minutes.
Heat oven to 375°F. Line 13×9-inch baking pan with aluminum foil, extending foil over edges. Spray bottom of foil-lined pan with no-stick cooking spray; set aside.
Add brown sugar, eggs, and vanilla to cooled browned butter; mix well. Add flour, baking powder, and salt; stir just until combined. Stir in chocolate chips. Spread two-thirds of cookie dough into prepared pan. Reserve remaining dough.
Combine caramels and heavy whipping cream in microwave-safe bowl. Microwave 1 minute; stir. Continue microwaving in 30-second intervals until completely melted. Pour mixture over cookie dough in pan; spread to 1/4-inch from sides. Sprinkle with 1/4 teaspoon coarse sea salt. Drop pieces of reserved cookie dough over top of caramel. Sprinkle with remaining 1/4 teaspoon coarse sea salt.
Bake 19-23 minutes or until golden brown around edges and toothpick inserted in center comes out clean. Cool completely.
Lift bars from pan, using foil ends. Cut into squares.