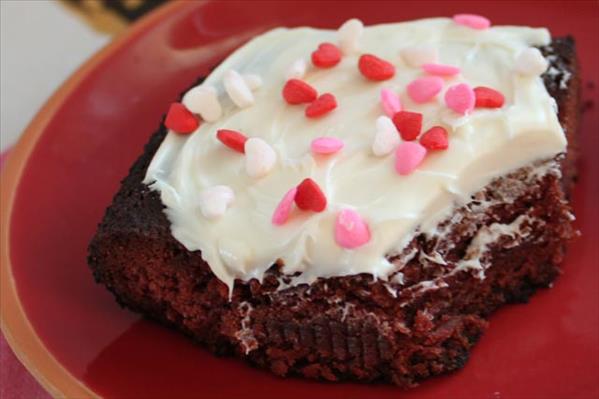 Recipe At A Glance
0 ingredients
Over 30 minutes
8+ Servings
Red Velvet desserts have certain ingredients that are a must. These include cream cheese, chocolate, buttermilk, and a deep red color. Without these elements, you don't have red velvet.Inspired by these building blocks, we created this recipe for Red Velvet Brownies. Using any boxed brownie mix or basic brownie recipe you prefer, this recipe is an easy way to make your loved ones the perfect treat for Valentine's Day.
Sponsored By

Recipe Ingredients
• 1 box brownie mix (or your favorite brownie recipe)
• ¼ cup Buttermilk
• About 10 drops red food coloring
• NestFresh Eggs
Recipe Directions
1. Preheat oven to temperature indicated on brownie mix or recipe.
2. Empty your favorite brownie mix or dry recipe ingredients into a large bowl.
3. In a separate bowl, mix the wet ingredients indicated by the package or your recipe, except the water.
4. In place of the water, add an equal amount of buttermilk to the wet ingredients. (For our mix, we used 2 NestFresh Eggs, ¼ oil, and ¼ cup buttermilk. Your ingredients may vary).
5. Mix the liquid well.
6. Add the first 7 drops of food coloring to the wet ingredients and mix until color is consistent.
7. Make a well in the dry ingredients and pour the wet ingredients into the well.
8. Add more food coloring as needed or desired for a deep red.
9. Pour the mixture into a greased pan.
10. Bake according to box or recipe.
11. Top with cream cheese frosting and sprinkles.