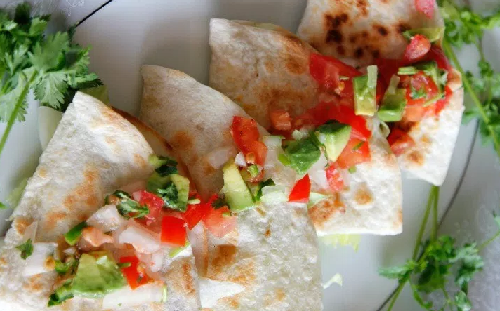 Recipe At A Glance
17 ingredients
15-30 minutes
8+ Servings
Our friend Silvia, from Mama Latina Tips, has come up with a quick and easy summertime Quesadilla Bar that will fill a crowd and leave them happy.
Recipe Ingredients
Basic Ingredients
Extra Filling Options
1 (2.5 oz) package Spanish Manzanilla Olives, pitted and sliced
1 (2.5 oz) package Black Olives, pitted and sliced
1 (3 oz) package Bacon Bits
1 (9 oz) package pork chorizo, cooked
1 c. frozen bell peppers, roasted
1 c. frozen corn niblets (I used lime-seasoned corn, roasted)
1 sweet onion, sliced and roasted
Pesto. (Click on the link for the basic pesto recipe)
12-18 basil leaves
12 cherry tomatoes, sliced
Grapes
Recipe Directions
I roasted the vegetables in a pan with a little bit of butter, but you can also roast them in the oven. The decision is yours.
Warm the tortillas, add filling and return to comal or pan until cheese is melted and the tortilla is nice and crispy. The only exception is the Quesadilla Margarita. In this case, just warm the tortilla really well, fill it up and eat immediately, don't return to the heat.
Other Recipes You Might Like