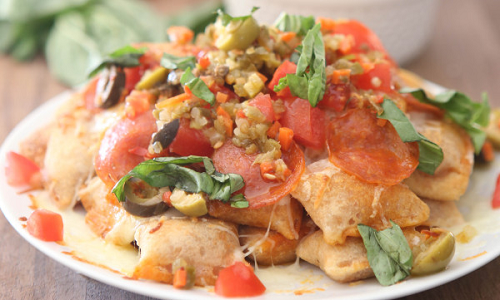 Recipe At A Glance
6 ingredients
Under 15 minutes
6 Servings
A fun spin on pizza and nachos, these Pizza Nachos from Eclectic Recipes are the perfect game-day, March Frozen Food Month and year-round snack!
Featured Product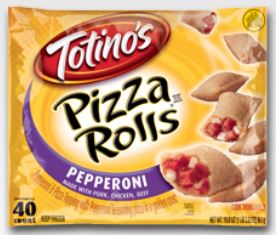 Totino's® Pepperoni Pizza Rolls
Recipe Ingredients
24 Pepperoni Totino's Pizza Rolls
12 Pepperoni slices
¼ cup shredded mozzarella cheese
2 tablespoons fresh basil
1/3 cup fresh diced tomato
3 tablespoons Hot or Mild Giardiniera Relish, or Hot and Spicy pizza topping, (optional)
Recipe Directions
Bake pizza rolls according to package directions.
Place pizza rolls on an oven safe plate; top with shredded cheese and pepperoni.
Place plate back in oven for 3 – 5 minutes, or until cheese has melted.
After removing plate from oven, garnish with fresh tomato, fresh basil and Giardiniera Relish.
Serve and enjoy!