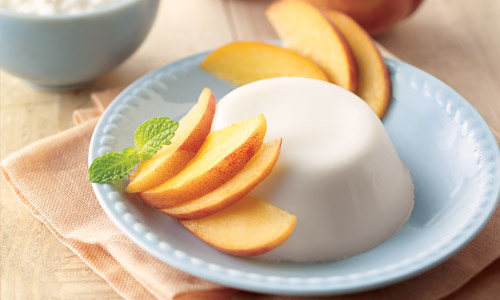 Recipe At A Glance
7 ingredients
Over 30 minutes
8+ Servings
A fresh and fruity summer treat!
Sponsored By

Recipe Ingredients
1 envelope unflavored gelatin
1/4 c. boiling water
2 c. 2% milk
1 1/4 c. Daisy Cottage Cheese
1/3 c. sugar
1/2 tsp. vanilla extract
2 fresh peaches, peeled and sliced
Recipe Directions
Sprinkle the gelatin over the boiling water in a small bowl; stir. Let the gelatin stand for 10 minutes until softened. Blend the milk, cottage cheese and sugar in a blender or food processor until smooth. Microwave the mixture in a large microwave-safe bowl for 1 minute; remove and stir until the sugar is dissolved. Add the gelatin mixture to the milk mixture, stir and microwave for an additional minute. Add the vanilla extract and stir until the mixture is smooth. Pour into eight, 6 oz. custard cups. Cover and refrigerate for 4 hours or overnight until firm. Place each custard cup in 1" of hot water for 30 to 45 seconds. Immediately invert onto a plate; repeat with remaining cups. Garnish with the fresh peach slices.