Orange Cornmeal Cake with Hazelnut Caramel Buttercream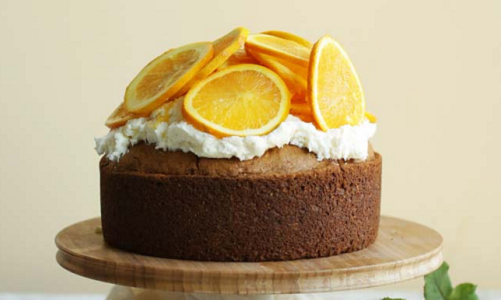 Recipe At A Glance
14 ingredients
15-30 minutes
8+ Servings
In celebration of June Dairy Month, Chef Billy Parisi baked this delicious sweet and savory Orange Cornmeal Cake with Hazelnut Caramel Buttercream that is perfect all year round.
Recipe Ingredients
For the Cake:
3 cups of all-purpose flour
1 cup of cornmeal
2 teaspoon of baking powder
2 teaspoon of baking soda
pinch of salt
1 cup of unsalted butter
2 cup of sugar
4 eggs
1 cup of whole milk
½ cup of sour cream
zest of 1 orange
For the Butter Cream:
Recipe Directions
Preheat the oven to 350°.
For the Cake: Mix together the flour, cornmeal, baking powder, baking soda, and salt into a large bowl until combined, and set aside.
Whip together the butter and sugar in a standing mixer with the paddle attachment on high speed until it becomes light and fluffy, about 6 to 8 minutes.
Next, add in 1 egg at a time until they are completely mixed in, and then add in the milk, sour cream and zest.
Add in the dry ingredients on low speed until it is completely mixed in
Spray a 4" high cake round with non-stick cooking spray and add the batter.
Bake the pan in the oven at 350° for 55 to 60 minutes or until it is lightly browned and firm in the center, and cool to room temperature.
For the butter cream: Whip the butter in a standing mixer with the paddle attachment on high speed until light and fluffy.
Add in the powdered sugar and creamer on low speed until combined and then whip it on high speed for 2 to 3 more minutes.
Once the cake is cool, frost the cake with the butter cream and serve.
Optional Garnish: Orange slices.