Mexican Chocolate Pie with Cinnamon Drizzle
Featured Product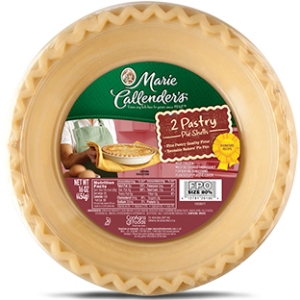 Marie Callender's Pastry Shell
Recipe Ingredients
For the Pie:
1 teaspoon ground cinnamon
1/4 teaspoon chipotle pepper powder
1/8 teaspoon salt
2 tablespoons cornstarch
8 oz. semisweet baking chocolate
3/4 cups whipping cream
1/4 cup whole milk
3 tablespoons butter
2 eggs
1 Marie Callender's Pastry Pie Shell
For the Cinnamon Drizzle:
1/2 cup of sugar
2 tablespoons water
1 tablespoon butter
1/3 cup whipping cream
3/4 teaspoon ground cinnamon
1/2 teaspoon vanilla extract
Serving:
Confectioner sugar for decoration (optional)
Breyers Natural Vanilla Ice Cream
Recipe Directions
For the Pie:
Pre-heat oven to 350 degrees F (approx 176 degrees C).
Mix together cinnamon, chipotle pepper, salt and cornstarch with a fork, this is an important step, make sure they are mixed together well, so you don't end up with "pockets" of pure pepper in the pie. Set aside.
Combine chocolate, cream, milk and butter in a heat-resistant glass bowl large enough to fit on top of a heavy bottomed pot. Pour a cup of water in the pot and bring to a boil over high heat. Reduce temperature and place heat-resistant glass bowl with chocolate mixture over the pot to create a double boiler. Whisk constantly until chocolate is melted.
Pour chocolate mixture into another glass bowl and let it cool down for 3 minutes.
Fold in dry ingredients. Add eggs and whisk until combined. You will end with a silky liquid.
Pour mixture into the frozen Marie Callender's Pastry Pie Shell and bake for 35-40 minutes, or until a toothpick inserted into the middle comes out cleanly.
For the Cinnamon Drizzle:
While the Mexican chocolate pie is baking, prepare the cinnamon drizzle.
Mix sugar and water in a heavy bottomed pan. Bring to boil over medium-high heat. Don't disturb it, let it boil on its own, you can just swirl the pan a little if needed.
When the caramel turns very pale beige. Don't take your eyes off it, sugar burns very quickly. Remove from heat, add butter and cream, mix well. Bring to heat again. When it starts to boil, turn off and remove from heat.
Add cinnamon and vanilla and stir until combined. Strain into a heat-resistant glass jar.
Serving the Pie:
Let it cool down to your preference. Decorate with confectioner's sugar if you like. If you like Silvia's design, she used a crocheted napkin – you can use something similar or make a stencil with parchment paper.
Other Recipes You Might Like