Recipe At A Glance
13 ingredients
Over 30 minutes
6 Servings
This Mexican Casserole from Dinner At The Zoo is a flavorful, easy dinner to feed a crowd and it takes just minutes to put together!
Featured Product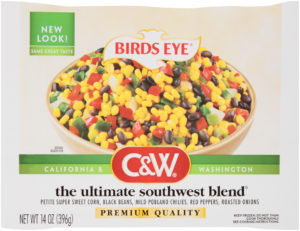 Birds Eye® C&W Premium Quality The Ultimate Southwest Blend
Recipe Ingredients
2 tablespoons Land O'Lakes butter
14 ounce bag Birdseye C&W Ultimate Southwest Blend
4 cups cooked, diced chicken
10 ounce can mild enchilada sauce
1 cup Daisy sour cream plus more for garnish
8 ounce bag Kraft Mexican Style Shredded Cheese
8 flour tortillas soft taco size, cut into squares
3/4 cup tomatoes seeded and diced
2 tablespoons cilantro leaves chopped
cooking spray
Casserole Variations:
Beef: Use 1 1/2 pounds cooked ground beef instead of chicken.
Taco Casserole: Use 1 1/2 cups taco sauce instead of enchilada sauce.
Spicy: Use hot enchilada sauce and try Kraft Pepper Jack shredded cheese instead of Mexican Style
Recipe Directions
Preheat the oven to 350 degrees F. Coat a 2 or 3 quart casserole dish with cooking spray.
Melt the butter in a large pan over medium heat. Add the bag of vegetables and cook for 3-4 minutes or until thawed.
Add the chicken to the pan and cook for an additional 2-3 minutes or until warmed through.
Place the chicken and vegetables in a large bowl. Add the enchilada sauce, sour cream, and half of the bag of cheese. Stir to combine.
Spread 1/3 of the tortilla pieces in the bottom of the dish. Add half of the chicken mixture, then top with another 1/3 of the tortillas.
Add the remaining chicken, then top with the rest of the tortillas. Sprinkle the remaining shredded cheese over the top.
Cover the dish with foil and bake for 15 minutes. Uncover and bake for an additional 15 minutes or until casserole is bubbly and cheese is melted.
Top with tomatoes and cilantro, then serve.
Make Ahead Instructions: Assemble the casserole, then cover with foil and refrigerate for up to 24 hours. Preheat oven to 350 degrees, then bake covered for 30 minutes. Uncover and bake for an additional 15 minutes or until cheese is melted and starting to brown.