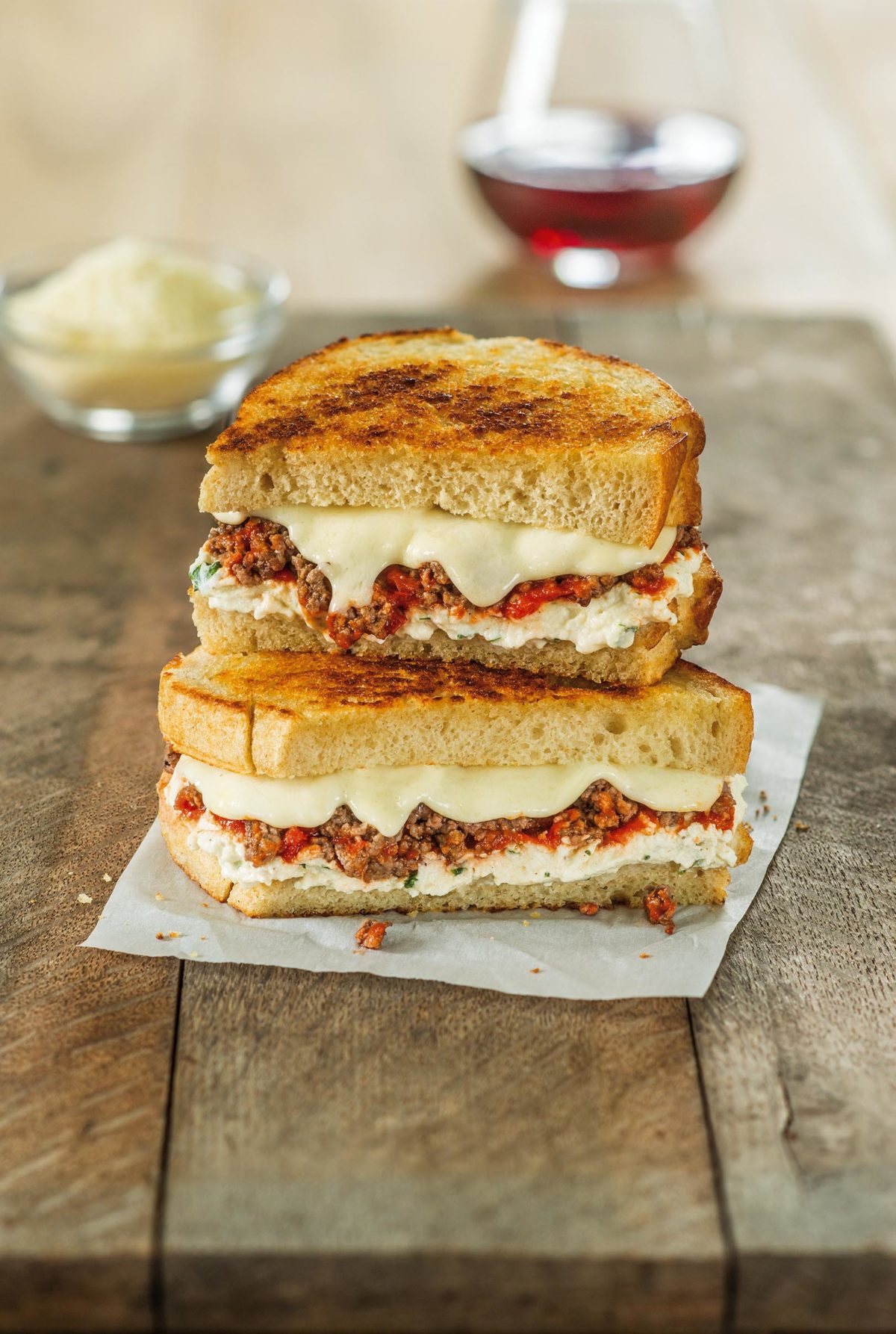 Recipe At A Glance
11 ingredients
15-30 minutes
4 Servings
Turn this popular Italian dish into a comfort food classic with this unique recipe for Lasagna Grilled Cheese using Galbani.
Sponsored By
Recipe Ingredients
16 oz. Galbani® Mozzarella, Sliced
15 oz. Galbani® Ricotta
2 Tbsp. Galbani® Grated Parmesan, divided
1/2 tsp. black pepper
1 tsp. fresh garlic, chopped
1 Tbsp. basil, chopped
16 oz. ground beef
8 slices Italian bread
2 Tbsp. softened butter
1 tsp. garlic powder
16oz. tomato sauce, divided
Recipe Directions
In a mixing bowl combine ricotta, 1 Tbsp. parmesan, black pepper, garlic and basil. Set aside.
Heat a large skillet over medium-high heat. Cook and stir the ground beef until it is completely browned, approximately 7-10 min.
Drain and mix with 10oz. of tomato sauce.
Lay out bread, butter one side and dust with garlic powder and remaining parmesan.
On the non-buttered side of 4 pieces spread the ricotta mixture (about 1-2 Tbsp. on each piece), layer the ground beef mixture on the ricotta, followed by the slices of mozzarella. Top sandwiches with the remaining 4 slices.
Move to a preheated pan on medium heat and cook for approximately 90 seconds, pressing down with a spatula. Flip and repeat until golden brown.
Remove, cut and serve with remaining tomato sauce to dip or cover sandwich.
Other Recipes You Might Like