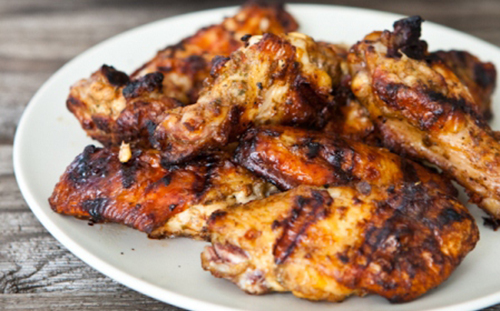 Recipe At A Glance
12 ingredients
Over 30 minutes
6 Servings
Our Cool Food Panelist, Angie, from Eclectic Recipes shows us how to use Tyson frozen chicken wings, and the bag they come in! This Jamaican inspired rub is great for those perfect summer grilling days!
Featured Product
Tyson Chicken Wings
Recipe Ingredients
1 4 lb bag Tyson chicken wings
3 green onions
1 bonnet pepper (or 1/4 sweet red bell pepper to make it kid-friendly!)
1 tsp. all spice
1 tsp. cinnamon
1/2 tsp. nutmeg
1/2 tsp. dried thyme
1 Tbsp. soy sauce
3 cloves garlic
1 Tbsp. Dixie Crystals brown sugar
1 Tbsp. apple cider vinegar
1 Tbsp. olive oil
Recipe Directions
Defrost wings and pat dry.
Return wings to bag.
Make a jerk rub from green onions, pepper, jerk spices, soy sauce and vinegar in food processor.
For a more mild rub, use 1/3 sweet red bell pepper and a pinch of cayenne pepper.
Apply rub to wings.
Cook wings on the grill or bake in the oven until deep golden brown.
Serve with simple salad or mixed grilled vegetable.
Other Recipes You Might Like