Gluten Free Chocolate Zucchini Bread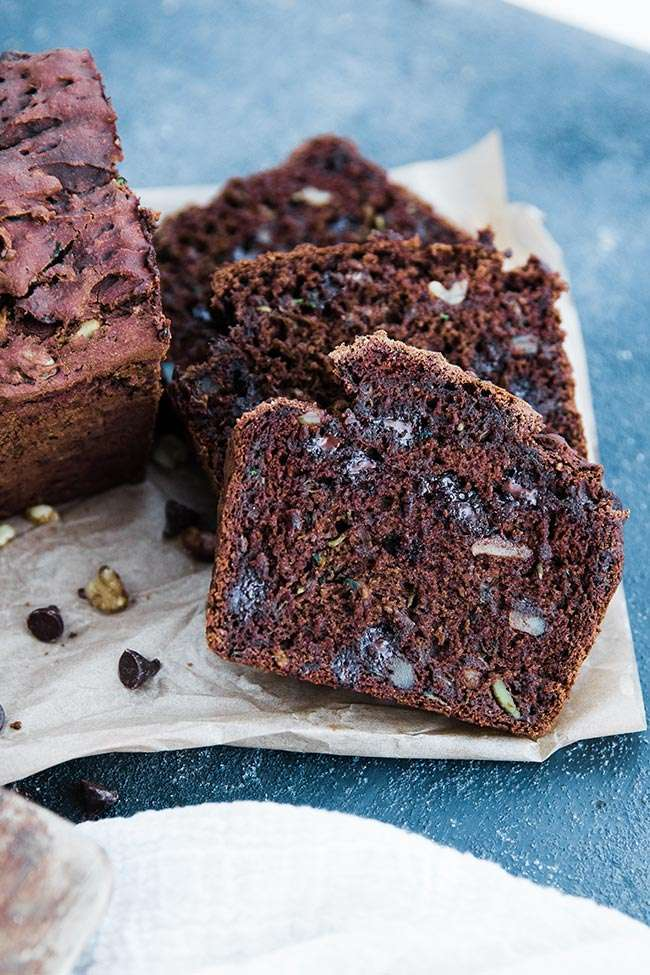 Recipe At A Glance
12 ingredients
Over 30 minutes
8+ Servings
Indulge without the guilt with this chocolatey, delicious Gluten Free Chocolate Zucchini Bread from Chef Billy Parisi.
Recipe Ingredients
5 cups of 1 to 1 gluten-free baking flour
2 tsp. of baking soda
1 Tbsp. of baking powder
1/3 cup of cocoa powder
1 peeled and seeded avocado
1/4 cup butter, softened
1 cup of maple syrup
4 large eggs
1/2 cup of melted semi-sweet chocolate
3 shredded medium-sized zucchini
1 cup of chopped walnuts
1 1/2 cups of semi-sweet chocolate chips + more for garnish
Recipe Directions
Preheat the oven to 350°.

In a large bowl mix together the flour, baking soda, baking powder, salt, and cocoa powder until combined and set aside.

In a stand mixer with the whisk attachment on medium speed add in the avocado and Melt butter until it becomes light and fluffy about 3 to 4 minutes. Note: The avocado should be smooth, with no chunks.

Add in the maple syrup, eggs one at a time, melted chocolate and zucchini. Mix on medium speed until combined.

Next, add in the bowl of dry ingredients and mix on low speed until completely combined.

Fold in the walnuts and 1 cup of chocolate chips using a rubber scraper.

Evenly transfer the batter to 2 9×5 loaf pans lined with parchment paper and garnish the top with chocolate chips.

Bake in the oven for 60 minutes or until a toothpick comes out clean after piercing the center.

Cool on a rack completely to room temperature. Slice and serve.
Other Recipes You Might Like