Game-Day Charcuterie Cones
Recipe At A Glance
12 ingredients
15-30 minutes
4 Servings
Are you ready for some football snacks? These Game-Day Charcuterie Cones from Cutefetti are perfect for your Big Game spread and be customized with your favorite snacks!
Featured Product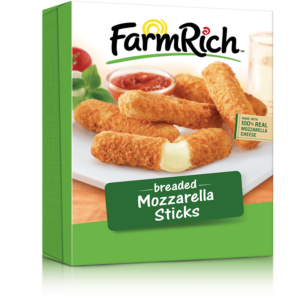 Farm Rich Mozzarella Sticks
Recipe Ingredients
Farm Rich Mozzarella Bites
Farm Rich Mozzarella Sticks
Other Farm Rich snacks (like Italian Style Meatballs)
Green Olives
Cured lunch meats (like salami or pepperoni)
Cubed cheeses (like cheddar cheese or Havarti)
Other snacks of choice
Mini food picks/skewers
Parchment paper to make cones
Craft paper to make cones
Scotch tape
Glasses (like beer steins or stemless wine glasses) or cone holders
Recipe Directions
Assemble cones using parchment paper and craft paper.
Prepare Farm Rich snacks according to package directions.
Skewer green olives, cheese and cured meats.
Layer Farm Rich snacks and skewered snacks to cones.
Display in cone holders or glasses.
Charcuterie Cones Tips:
You can use whatever snacks you have in your pantry right now – think salted almonds, olives, gherkins, dried cranberries, etc. Be sure to add height variation and stack 'em real good! Go big or go home by serving cones with marinara sauce (for the Farm Rich Mozzarella snacks!), brown mustard and other dips that you would normally add to a charcuterie board. Score a touchdown by using fun craft paper for the cones!
Other Recipes You Might Like