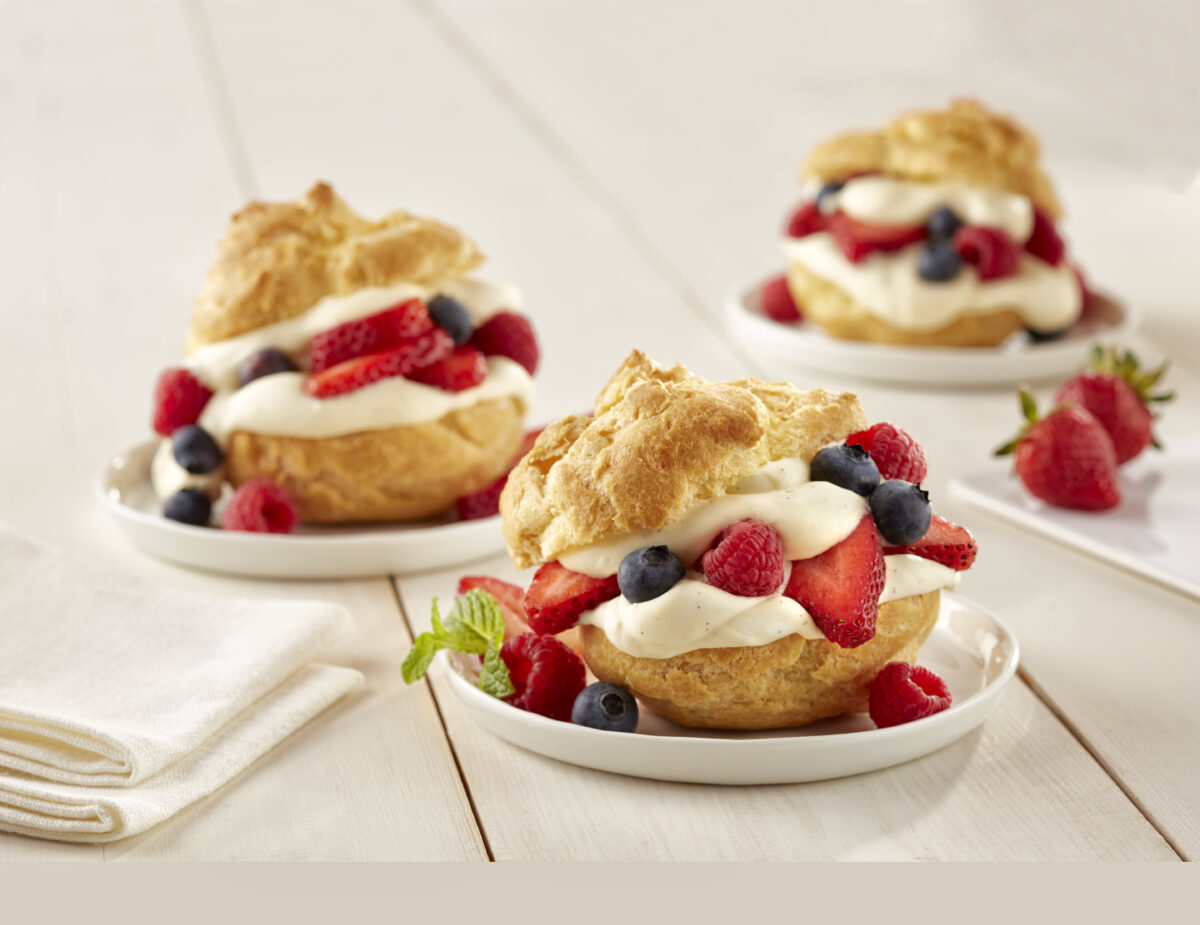 Recipe At A Glance
15 ingredients
Over 30 minutes
8+ Servings
The ultimate summer time dessert. Eggy, simple to make cream puffs are filled with fresh summer berries and fluffy whipped pastry cream.
Sponsored By

Featured Product
Land O Lakes® Butter
Recipe Ingredients
Vanilla Bean Cream
1  1/2 cups LAND O LAKES® Half & Half
1/4 cup sugar
1/8 teaspoon salt
1 vanilla bean, scrape seeds from inside bean*
2 tablespoons cornstarch
2 large LAND O LAKES® Eggs (yolks only)
2 tablespoons LAND O LAKES® Butter
Cream Puff
1 cup water
1/2 cup LAND O LAKES® Butter
1/8 teaspoon salt
1 cup all-purpose flour
4 large LAND O LAKES® Eggs
1/2 cup LAND O LAKES® Heavy Whipping Cream
Fresh blueberries, raspberries, and strawberries, as desired
Fresh mint leaves, as desired
*Substitute 1 teaspoon vanilla extract. Add to vanilla cream with butter.
Recipe Directions
Heat oven to 400°F.
Combine 1 cup half & half, sugar, salt, and vanilla bean in medium saucepan; mix well. Bring to a simmer over medium heat, stirring until sugar is dissolved.
Place remaining 1/2 cup half & half, cornstarch, and egg yolks in bowl; whisk until combined.
Whisk small amount of hot milk mixture into egg yolk mixture. Pour egg yolk mixture back into remaining hot milk mixture. Bring to a boil, whisking constantly, until mixture thickens. Remove from heat.
Pour mixture through a fine sieve into large bowl to strain. Stir in 2 tablespoons butter, stir until melted. Cover with plastic food wrap (pressing wrap onto surface of cream). Refrigerate until completely chilled.
Combine water, butter and salt in saucepan. Cook over medium heat 5-10 minutes or until mixture comes to a full boil. Stir in flour vigorously until mixture forms ball. Remove from heat. Beat in 1 egg at a time until smooth.
Drop dough by 1/4 cupfuls, about 3 inches apart, onto ungreased baking sheets. Bake 30-35 minutes or until puffed and lightly browned. Remove from oven. Pierce each puff gently with fork to allow steam to escape. Cool completely.
Beat whipping cream in chilled bowl at high speed, scraping bowl often, until stiff peaks form. Gently fold into chilled pastry cream.
Cut cream puffs in half horizontally. Layer bottom half with vanilla bean cream, fresh berries and ending with vanilla bean cream. Top with remaining half of cream puff.
10 servings
Tips:
Adding a small amount of hot milk mixture to eggs first prevents eggs from scrambling. If your eggs do scramble a little bit, running mixture through a sieve should eliminate any chunks.
Other Recipes You Might Like