Easy Leftover Turkey Pot Pie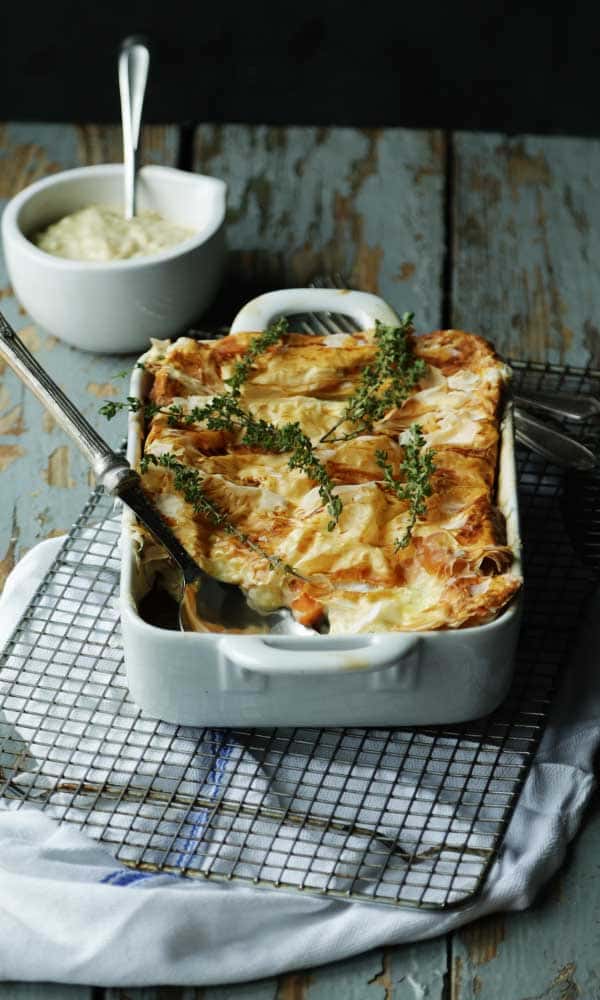 Recipe At A Glance
14 ingredients
Over 30 minutes
6 Servings
Not sure what to do with your leftover turkey from Thanksgiving? Throw it into this pot pie from Chef Billy Parisi for an easy-to-make dish that's full of flavor and will hit the spot!
Recipe Ingredients
3 cups of chopped cooked turkey
1 bag of Green Giant frozen mixed vegetables
1 cooked and chopped sweet potato
1 cooked and chopped Idaho potato OR (1 cup refrigerated Simply Potatoes pre-diced potatoes)
1 diced onion
2 oz. of Land O Lakes unsalted butter
3 Tbsp. of flour
32 oz. of chicken stock
1 cup of heavy cream
1 sheet of frozen Athens phyllo dough
1 Tbsp. of chopped fresh thyme
Kosher salt and fresh cracked pepper to taste
1 egg
1/3 cup of milk
Recipe Directions
In a large pot on high heat with ½ ounce of butter add in the onion and caramelize. Once brown add in the remaining butter.
After it's completely melted add in the flour and combine.
Next add in the stock and bring to a boil while occasionally whisking. It will become like very thick gravy. Once it is boiling turn the heat down to simmering.
Add in the cream, salt, pepper, and thyme, and keep warm.
Place the turkey, vegetables and potatoes in a 9×13 casserole pan and pour on the herb gravy.
Next layer the phyllo dough over the top. Since there are several layers feel free to spread them out so that the entire pan is covered.
In a small bowl whisk together the egg and milk and brush the top of the phyllo dough.
Bake in the oven on 350° for 30 minutes.
Serve hot!