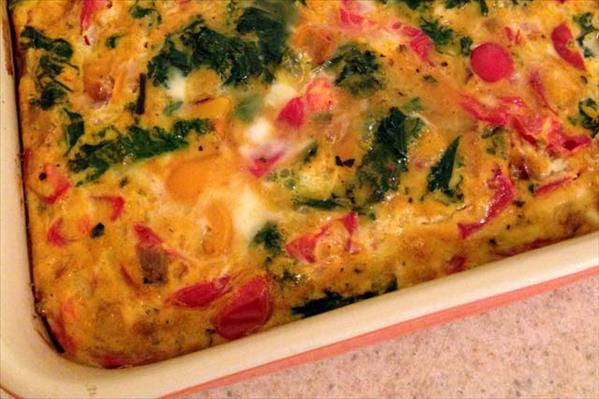 Recipe At A Glance
0 ingredients
Over 30 minutes
4 Servings
Confetti Frittata is named for all of the diced up veggies in a variety of colors. The best part about this recipe is that you can use almost any veggies, and even meat, you have on-hand left-over from other meals or scraped from the last harvest from your garden. Its rainbow of colors means you're getting a lot of different nutrients, too, in addition to the vitamins and nutrients found in eggs!
Sponsored By

Recipe Ingredients
• 2 tablespoons oil, divided
• 1 shallot, diced
• 2 cloves garlic, diced
• 1 orange bell pepper, seeded and diced
• 2 cups kale, chopped
• 1 tomato, diced
• 8 NestFresh Eggs
• Salt and pepper to taste
Recipe Directions
1. Preheat the oven to 350 degrees farenheit.
2. Heat 1 tablespoon of oil in a pan over medium heat.
3. Once hot, sauté the shallot and garlic about 3 minutes.
4. Add the bell pepper and continue to sauté for another 3 minutes.
5. Add the kale and continue to sauté for another 3 minutes.
6. Place the vegetable mix into a large bowl and mix in the tomato.
7. In a separate bowl, beat the eggs then mix them into vegetables.
8. Season the eggs and vegetables with salt and pepper.
9. Grease an 8×8 square baking dish with the other tablespoon of oil.
10. Bake 35 minutes until completely set and a knife inserted in the center comes out clean.