Chorizo Potato Bites with Salsa Verde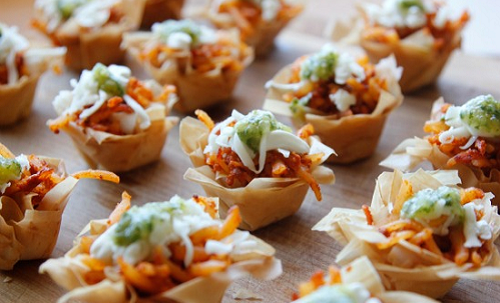 Recipe At A Glance
10 ingredients
Over 30 minutes
8+ Servings
Spice up your appetizer and snack spread with these Chorizo Potato Bites with Salsa Verde from Mama Latina Tips!
Featured Product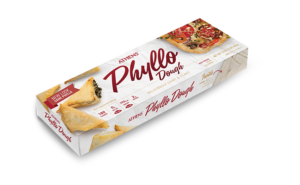 Athens® Fillo Dough
Recipe Ingredients
1 box Athens® Fillo dough (phyllo pastry sheets) Save even more time with the Athens® mini fillo shells
Olive oil cooking spray
2 Tablespoons olive oil
4 cups Simply Potatoes® Shredded Hash Browns
Garlic powder to taste
1 (9 oz) tube pork chorizo
Salt to taste
1 package Galbani® Mozzarella cheese
Daisy® sour cream
Salsa verde – click on the link to see her recipe
Recipe Directions
You will also need two-24, or four-12, mini cupcakes tins.

Pre-heat oven at 350 degrees F.
Very important: Thaw phyllo dough according to the instructions on the package. You will use just one of the two rolls.
Spray the mini-cupcake tins with cooking oil.
Take the phyllo dough roll, and unroll it. Carefully, take one of the sheets and place it on a flat and clean surface. Spray with cooking oil to cover the entire sheet lightly. Add a second sheet on top of the first one, spray cooking oil again, repeat until you have 4 sheets of phyllo dough. (Cover remaining sheets with a wet paper towel or plastic wrap to prevent drying until you need them).
Cut 12 even squares (3×4). Take one of the squares, carefully separate and stagger the sheets so the corners of each layer show, and then press the restacked sheets into a cupcake cup. Repeat until you finish with the first 12. Repeat the entire process three more times until you finish with all 48.
Bake 8-10 minutes or until lightly browned. Cool down for 3-5 minutes and transfer to a plate.
While phyllo is cooking. Add two tablespoons of olive oil in a non-stick pan over medium-high heat. When olive oil is heated, add simply potatoes to the pan, and cook until potatoes are golden brown. Add garlic powder to taste. While potatoes are browning, in a separate pan add the chorizo and cook until it bubbles, then lower the heat and let it cook gently for 5 minutes, stirring occasionally. Once both are cooked, mix the potatoes and chorizo together and salt to taste.
Fill each phyllo basket with the potato-chorizo mixture, top with shredded mozzarella cheese, sour cream and salsa verde.
Enjoy chorizo potato bites immediately after serving.