Chicken Parmesan Sheet Pan Dinner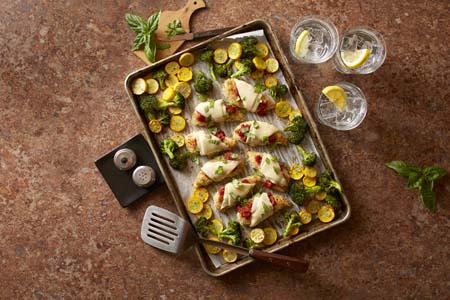 Recipe At A Glance
14 ingredients
15-30 minutes
4 Servings
All on one pan! Oven baked chicken parmesan and roasted vegetables create a go-to weeknight dinner.
Sponsored By

Recipe Ingredients
1 (14-ounce) package chicken breast tenders
4 tablespoons Land O Lakes® Butter with Canola Oil
1 cup panko bread crumbs
1/4 cup grated Parmesan cheese
1 teaspoon Italian seasoning
1/2 cup all-purpose flour
1 large Land O Lakes® Egg, slightly beaten
2 cups broccoli florets
1 medium (2 cups) yellow summer squash, cut into 1/4-inch slices
1/4 teaspoon salt
1/4 teaspoon pepper
2/3 cup marinara pasta sauce
4 (3/4-ounce) slices Land O Lakes® Deli American, quartered
2 tablespoons chopped fresh basil
Recipe Directions
Heat oven to 400°F. Line half sheet baking pan (18x13x1-inch) with parchment paper. Set aside.
Melt 2 tablespoons butter with canola oil in shallow, microwave-safe dish or pie pan. Stir in bread crumbs, Parmesan cheese and Italian seasoning.
Place flour and beaten egg into separate pie pans or shallow bowls.
Dip chicken into flour and then egg. Lightly press both sides of chicken into crumb mixture to coat. Place in middle of prepared pan.
Place broccoli florets and summer squash slices around edge of pan. Dollop vegetables with remaining butter with canola oil. Sprinkle with salt and pepper. Bake 15-16 minutes until internal temperature of chicken reaches 165°F and chicken is cooked through. Turn oven to broil. Broil 6-8 minutes or until bread crumbs are golden brown.
Spoon about 1 tablespoon marinara sauce onto each chicken tender. Top with Deli American quarters. Return to oven 1-2 minutes or until cheese is melted and lightly browned. Garnish chicken with fresh basil.