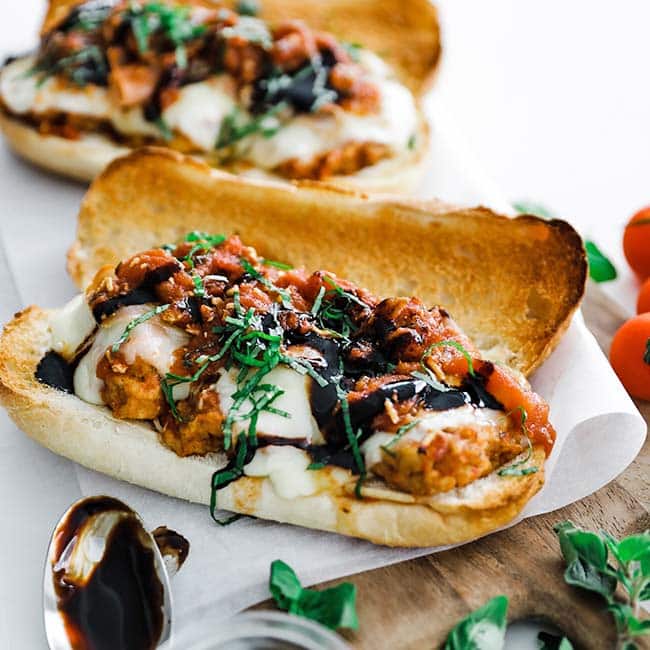 Recipe At A Glance
7 ingredients
15-30 minutes
4 Servings
Ease into the Back-to-School season with help from frozen food shortcuts! Chef Billy Parisi used a Michael Angelo's meal starter to make these Chicken Bruschetta Sandwiches.
Featured Product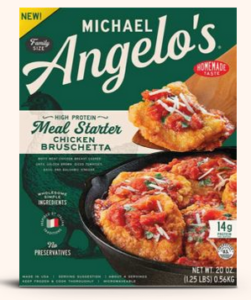 Michael Angelo's Chicken Bruschetta Meal Starter
Recipe Ingredients
1 package of cooked Michael Angelo's Chicken Bruschetta Meal Starter
2 hoagie buns sliced
2 slices of mozzarella cheese sliced in half
2 slices of provolone cheese sliced in half
4 slices of prosciutto ham
2 tsp. balsamic glaze
1 Tbsp. chopped fresh basil
Recipe Directions
Cook the chicken bruschetta according to package directions.
Preheat the broiler to high heat.
Place the cooked chicken bruschetta evenly onto 1 side of each sliced hoagie bun, reserve the tomato sauce in the heating tray.
Evenly place both cheeses and prosciutto on top of the chicken and broil on high for 3-5 minutes until the bun is toasted and cheese is melted.
Remove from the oven and top off with heated tomato sauce from the heating tray, balsamic glaze and basil.
Slice the sandwich and serve.