Caramelized Banana Pancake Cake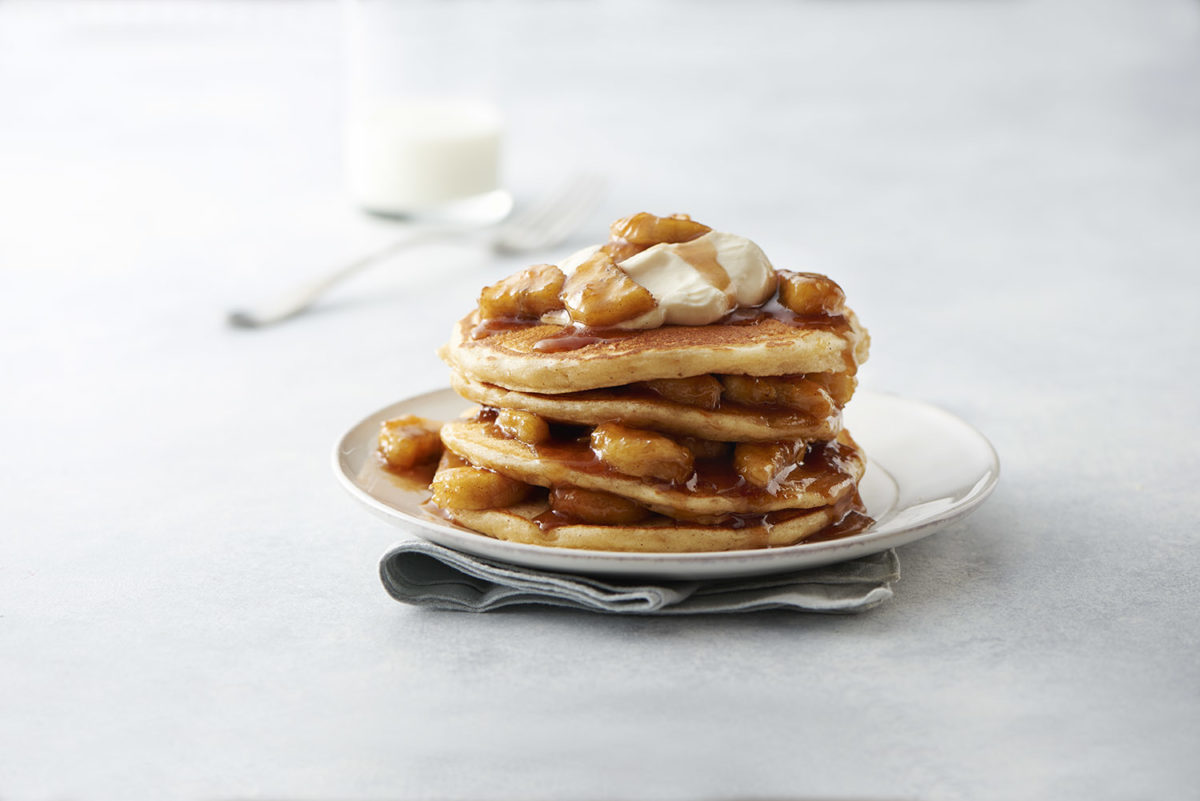 Recipe At A Glance
17 ingredients
Over 30 minutes
6 Servings
An excuse to eat dessert for breakfast! Serve the sophisticated flavors of spiced pancakes, maple whipped cream, and caramelized bananas for birthday brunch.
Sponsored By

Featured Product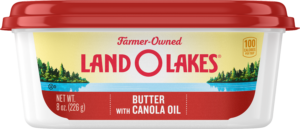 Land O Lakes® Butter with Canola Oil
Recipe Ingredients
MAPLE CREAM CHEESE FROSTING
3 ounces cream cheese, softened
3 tablespoons maple syrup
1/2 cup Land O Lakes® Heavy Whipping Cream
PANCAKE
2 cups all-purpose flour
3 tablespoons sugar
1 teaspoon baking powder
1/2 teaspoon baking soda
1/2 teaspoon salt
1/2 teaspoon cardamom
1/2 teaspoon ground cinnamon
2 cups buttermilk
1/3 cup Land O Lakes® Butter with Canola Oil, melted, cooled
2 large Land O Lakes® Eggs, beaten
CARAMELIZED BANANAS
1/2 cup Land O Lakes® Butter with Canola Oil
1 cup firmly packed brown sugar
1 teaspoon ground cinnamon
2 (2 cups) firm, ripe bananas, sliced lengthwise and cut into 2-inch pieces
Recipe Directions
Beat cream cheese and maple syrup in medium bowl with hand mixer until well mixed and no lumps remain. Add whipping cream; beat on medium speed until soft peaks form. Set aside.
Place 13×9-inch baking pan in oven. Heat oven to 200°F.
Heat griddle to 350°F or until drops of water sizzle on surface.
Combine flour, sugar, baking powder, baking soda, salt, cardamom, and cinnamon in large bowl. Add buttermilk, melted butter, and eggs. Whisk just until combined. (Batter will be thick and lumpy.)
Lightly grease or butter griddle.
Using 1/4 cup measure, spoon batter onto griddle. Cook 2-3 minutes or until bubbles form on surface. Turn; continue cooking 2-3 minutes or until golden brown. Place finished pancakes in warm baking pan in oven; cover with dry tea towel. Continue cooking pancakes in batches, keeping finished pancakes in warm oven.
Place butter, brown sugar, and cinnamon into 12-inch nonstick skillet. Cook over medium heat until bubbles begin to form. Add sliced bananas; cook, stirring occasionally, until sauce is thick and bananas are heated through.
Place 1 rounded tablespoon of banana mixture onto each of 6 pancakes. Top with another pancake.  Repeat with banana mixture and pancakes, using 3 pancakes per serving and ending with a pancake. Top each serving with 1/4 cup maple cream cheese mixture and spoonful of banana mixture. Serve immediately.
Other Recipes You Might Like