Cajun Salmon Sheet Pan Dinner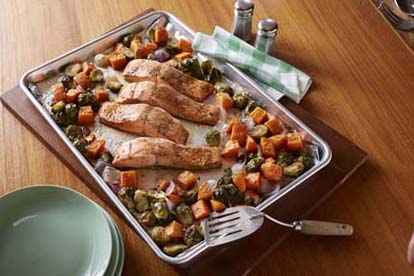 Recipe At A Glance
17 ingredients
15-30 minutes
4 Servings
Cajun spices are mellowed with the sweetness of roasted vegetables in this easy sheet pan dinner.
Sponsored By

Recipe Ingredients
Cajun Butter
2 tablespoons Land O Lakes® Butter with Canola Oil
1/2 teaspoon salt
1/2 teaspoon firmly packed brown sugar
1/2 teaspoon paprika
1/2 teaspoon ground red pepper (cayenne)
1/4 teaspoon garlic powder
1/4 teaspoon pepper
1/8 teaspoon oregano
1/8 teaspoon ground thyme
1/8 teaspoon ground sage
Vegetables
1 large (3 cups) sweet potato, cut into 1-inch cubes
12 ounces (3 cups) Brussels sprouts, trimmed, cut in half
1 small (3/4 cup) red onion, chopped
1/4 cup Land O Lakes® Butter with Canola Oil
3/4 teaspoon salt
1/2 teaspoon pepper
Salmon
1 1/2 pounds salmon filet, cut into 4 filets
Recipe Directions
Heat oven to 425°F. Line half sheet baking pan (18x13x1-inch) with aluminum foil. Spray foil with no-stick cooking spray.
Combine all cajun butter ingredients in small bowl; mix well. Refrigerate.
Spread vegetables on prepared pan. Dot with 1/4 cup butter with canola oil. Sprinkle with 3/4 teaspoon salt and 1/2 teaspoon pepper. Bake 20 minutes.
Move vegetables to edge of pan. Place salmon pieces in center. Coat with cajun butter. Return to oven; cook 15-16 minutes or until internal temperature of salmon reaches 145°F and salmon flakes easily with fork.