Blueberry Pancake Poppers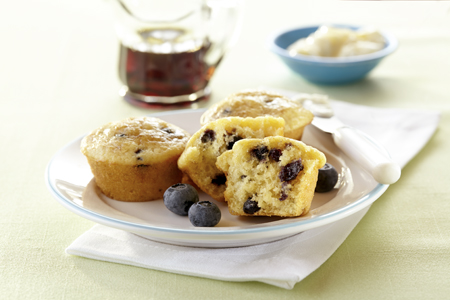 Recipe At A Glance
10 ingredients
15-30 minutes
8+ Servings
Kids will love these bite-sized pancakes they can eat with their hands.
Sponsored By

Recipe Ingredients
2/3 cup milk
1 Half Stick (1/4 cup) Land O Lakes® Butter, melted
1 Land O Lakes® Egg
1/4 cup maple syrup
1 teaspoon vanilla
1 1/4 cups all-purpose flour
1 tablespoon sugar
2 teaspoons baking powder
1/4 teaspoon salt
1/2 cup dried blueberries
Land O Lakes® Butter with Canola Oil, if desired
Maple syrup, if desired
Recipe Directions
Heat oven to 350ºF. Spray 24 mini muffin pan cups with no-stick cooking spray; set aside.
Combine milk, butter, egg, 2 tablespoons maple syrup and vanilla in bowl.
Combine flour, sugar, baking powder and salt in bowl. Add blueberries; toss to coat. Add milk mixture to flour mixture; stir until just combined.
Divide batter among muffin cups. Bake 10-12 minutes or until toothpick inserted in center comes out clean. Brush tops with remaining maple syrup.
Serve warm with Butter with Canola Oil and additional maple syrup, if desired.
Other Recipes You Might Like