BBQ Chicken Sliders Recipe with Coleslaw and Pickles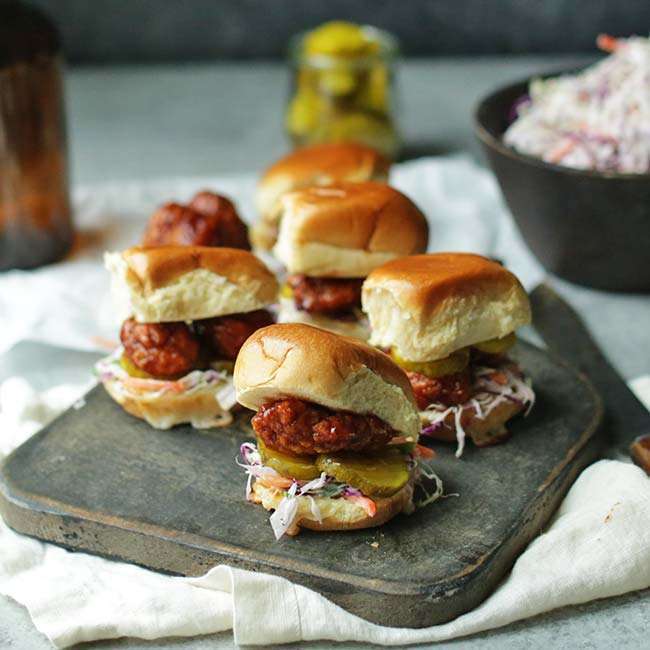 Recipe At A Glance
15 ingredients
Over 30 minutes
5 Servings
Your game-day party would not be complete without these BBQ Chicken Sliders!
Featured Product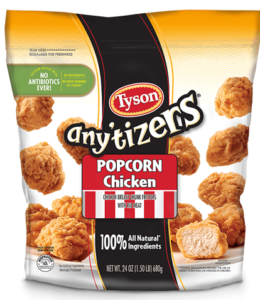 Tyson Any'tizers Popcorn Chicken
Recipe Ingredients
1 bag of Tyson Any'Tizers Popcorn Chicken
1 c. of your favorite BBQ sauce, heated
½ thinly sliced head of green cabbage
¼ thinly sliced head of red cabbage
1 c. of matchstick carrots
¼ c. of sliced green onions
¼ c. of chopped fresh cilantro
½ tsp. of celery seed
⅓ c. of mayonnaise
3 tbsp. of red wine vinegar
1 tsp. of sugar
8 slices of mozzarella cut in half
32 bread and butter pickle slices
16 brioche rolls cut in half
Kosher salt and fresh cracked pepper to taste
Recipe Directions
Cook the chicken in the oven per its instructions.
Toss them with the heated BBQ sauce in a bowl. Keep warm.
Coleslaw: In a large bowl mix together the cabbages, carrots, green onions, cilantro, celery seed, mayonnaise, vinegar, sugar, and salt and pepper until completely combined. Chill before serving. Note there may be extra leftover which you can serve separately.
To Plate: Evenly divide the cheese onto the bottom part of the 16 buns and melt in the oven under the broiler on low heat for 3 to 4 minutes or until melted and lightly browned.
Next, add some coleslaw on top of the melted cheese followed by adding on a few pieces of BBQ chicken, pickles and the top of the bun.
Repeat the process until the ingredients are gone.