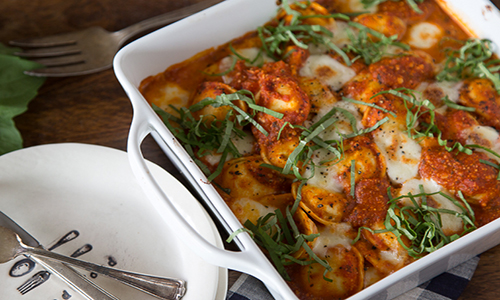 Recipe At A Glance
8 ingredients
Over 30 minutes
7 Servings
What's Gaby Cooking has a fabulous March Frozen Food Month recipe for you to try at your next social event or family dinner–Baked Ravioli!
Featured Product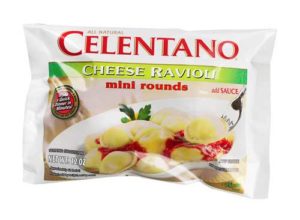 Celentano Cheese Stuffed Mini Ravioli
Recipe Ingredients
1 (24-oz.) pkg. Celentano Cheese Stuffed Mini Ravioli
2 cups marinara sauce
1/2 cup grated Parmesan cheese
1 tsp. Italian seasoning
1/2 tsp. kosher salt
1/4 tsp. freshly cracked black pepper
1 cup fresh mozzarella cheese, torn into small pieces
1/3 cup fresh basil leaves, cut into a chiffonade
Recipe Directions
Preheat an oven to 350F.
Lightly spray an 8X8 baking dish with nonstick spray.
In a large pot of boiling water, cook the frozen Celentano Cheese Stuffed Mini Ravioli just until tender, about 4-5 minutes. Drain the pasta and set aside.
In a medium bowl, combine the marinara sauce and Parmesan cheese. Add in the Italian seasoning, salt and pepper and stir to combine. Add in the cooked pasta and toss everything together to coat.
Transfer the ravioli into the prepared baking dish. Scrape any remaining marinara sauce on top of the pasta and add the torn mozzarella cheese on top. Transfer the baking dish into the oven and bake for 25-30 minutes until the cheese is golden and bubbling.
Remove from the oven and let rest for 5 minutes before serving. Garnish with the basil and extra cheese if desired.