Bacon & Pimento Cheese Grilled Cheese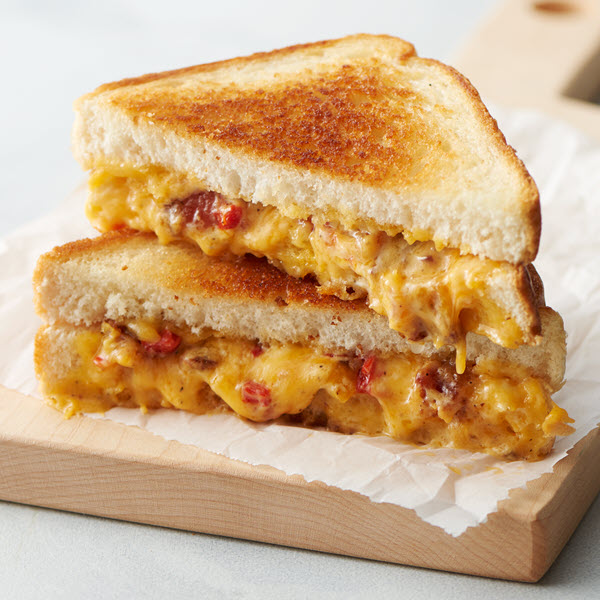 Recipe At A Glance
12 ingredients
Over 30 minutes
4 Servings
Pimento cheese is back, and we couldn't be more thrilled! Adding chopped bacon and grilling it between Texas toast might be the best idea we've had in a while.
Sponsored By

Featured Product
Land O Lakes® Butter with Canola Oil
Recipe Ingredients
Pimento Cheese
1 (3/4-inch thick) slice LAND O LAKES® Deli American, shredded
1 cup shredded sharp Cheddar cheese
4 ounces cream cheese, softened
1/4 cup mayonnaise
1 teaspoon hot sauce
1/4 teaspoon garlic powder
1/4 teaspoon onion powder
1/4 teaspoon pepper
1/4 cup diced pimentos
1 cup chopped, cooked bacon
Bread
8 slices Texas toast bread
8 teaspoons LAND O LAKES® Butter with Canola Oil
Recipe Directions
Combine all Pimento Cheese ingredients in bowl; mix until well combined.
Spread 1 side of each bread slice with 1 teaspoon butter with canola oil. Spread 1/2 cup pimento cheese mixture onto each unbuttered side of 4 slices bread. Top with remaining bread slices, buttered-side up.
Heat 12-inch skillet or griddle over medium heat. Place sandwiches into skillet. Cook, turning once, 6-8 minutes or until golden brown and cheese is melted. Repeat with any remaining sandwiches.
Tips:
If you have thin sliced Deli American fresh from the deli, finely chop it for the pimento mixture.
Other Recipes You Might Like