Asparagus and Broccoli Chicken Teriyaki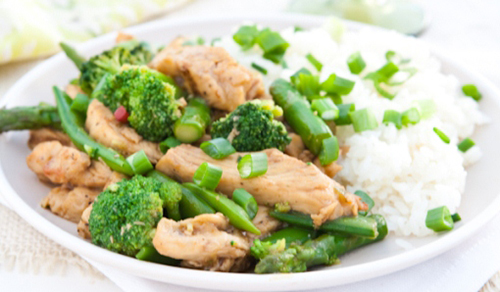 Recipe At A Glance
12 ingredients
15-30 minutes
6 Servings
Our Cool Food Panelist, Angie from Eclectic Recipes loves this recipe for all the frozen vegetables and Tyson frozen chicken breast strips it calls for! Frozen foods can be a great time saver when you want to prepare healthy meals like Asparagus and Broccoli Chicken Teriyaki stir fry! Use these or your own favorite frozen vegetables to create a sizzlin' dish your family will love!
Featured Product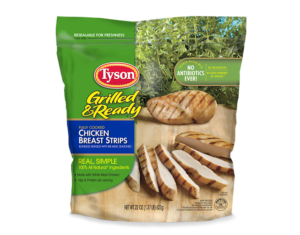 Grilled & Ready® Fully Cooked Frozen Grilled Chicken Breast Strips
Recipe Ingredients
1/2 cup teriyaki sauce
1/2 cup water or chicken stock
1 Tbsp. cornstarch
1 clove garlic, grated
1 tsp. fresh from frozen (or fresh) grated ginger
1 (22-oz.) bag Tyson Grilled and Ready chicken breasts strips (refrigerated or frozen and defrosted)
1 (8-oz.) Pictsweet steam bag Asparagus spears, cut in bite size pieces, defrosted
1 (10-oz.) Pictsweet steam bag broccoli florets, defrosted
1 (10-oz.) Pictsweet steam bag baby sugar snap peas, defrosted
1 cup from 1 (12-oz) Pictsweet bag seasoning blend, defrosted
6 cups cooked white or brown rice
1/4 cup chopped green onions for garnish, optional
Recipe Directions
Combine teriyaki sauce, chicken stock or water and cornstarch in a cold skillet. Whisk well to combine and place over medium heat. Add garlic and ginger.
Whisk sauce until it comes to a boil and starts to thicken. After sauce has thickened, add chicken, asparagus, broccoli, sugar snap peas and seasoning blend. Mix well and heat through.
Serve over cooked rice. Garnish with onions if desired.