December 1, 2020
White Elephant Gift Exchange
The holiday season is officially upon us! Cool Food Panelist, This Worthey Life shares some holiday entertaining tips for hosting – whether in person or virtually.

~
As we start the holiday season and plan our traditional events, I'm sharing tips on hosting a White Elephant Gift Exchange, including a virtual option.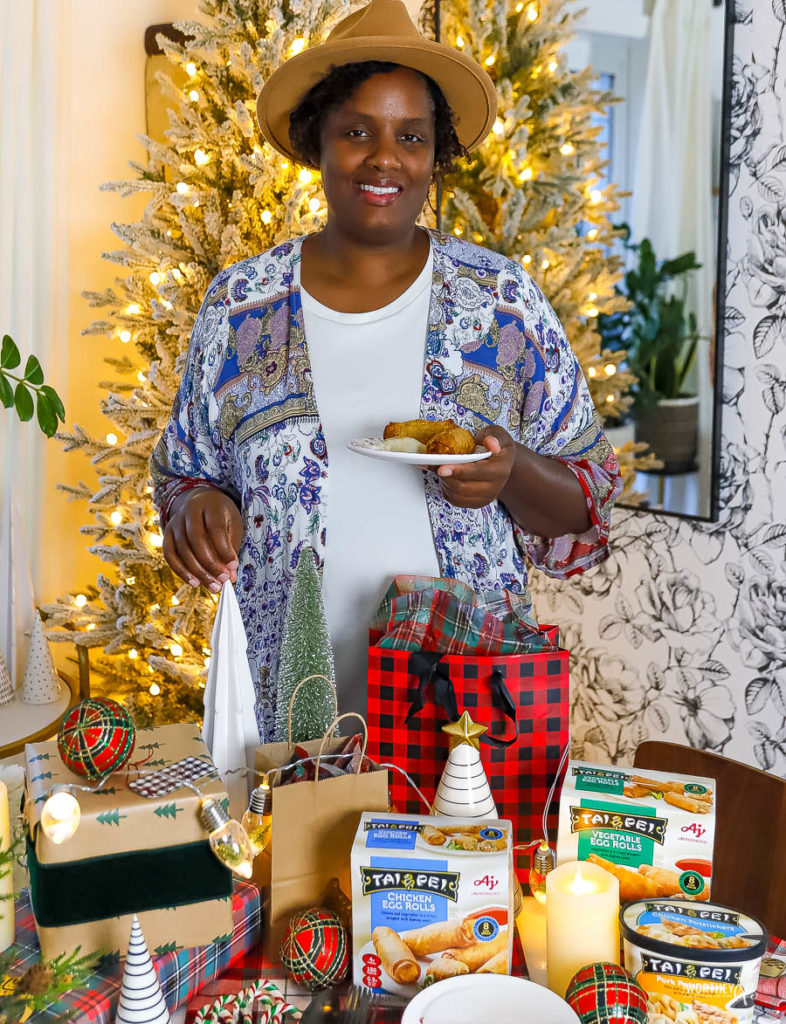 White Elephant Gift Exchange | How to Plan a Successful White Elephant Party
The holiday season is here, which typically means food, spending time with loved ones, gift-giving, and more food. This year, our holidays and get-to-gathers may look different, but that doesn't mean we stop celebrating. We find ways to do it safely, which may be virtually, or smaller, social distancing events.
Regardless of how you celebrate, one fun event that happens every year is the White Elephant Party. I'm sharing tips + ways you can pull off a successful White Elephant Party, including ways you can do it virtually.
With so many unknowns this holiday season, your health + well-being should be the number one gift you give yourself. However, you decide to celebrate this season, do it safely.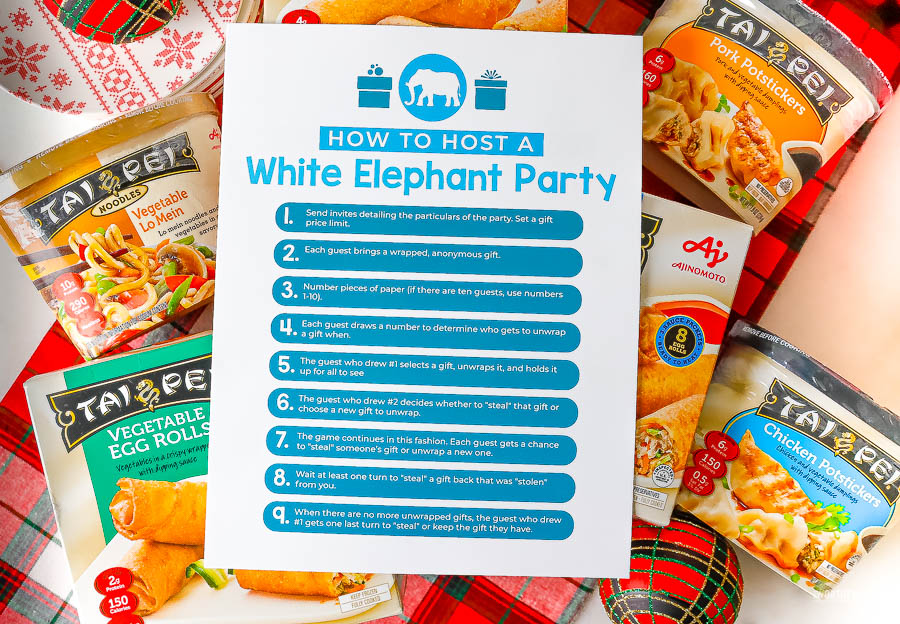 When it comes to putting together a White Elephant Party, you'll need a few things:
A place to host the party (this could be your home- bonus if you live in a warm area to have the party outdoors)
A guest list (I recommend keeping it small and remind guests to practice social distancing and wear a mask)
The rules of how this type of party works (see below)
Tasty, yet easy-to-prepare food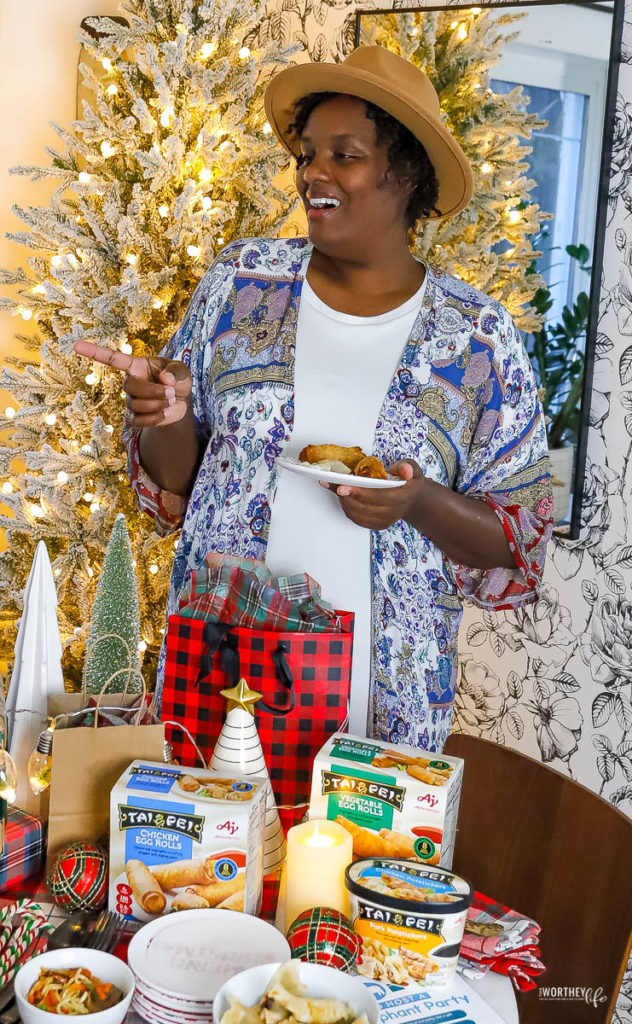 Food connects us. It doesn't matter what type of food you serve at your White Elephant Party, but it needs to be good. As entertainers, we believe the quality of the food is essential. We have a small home, so fitting a lot of people in our space is always challenging. However, we want our guests to remember that the food was on point after an evening at The Wortheys.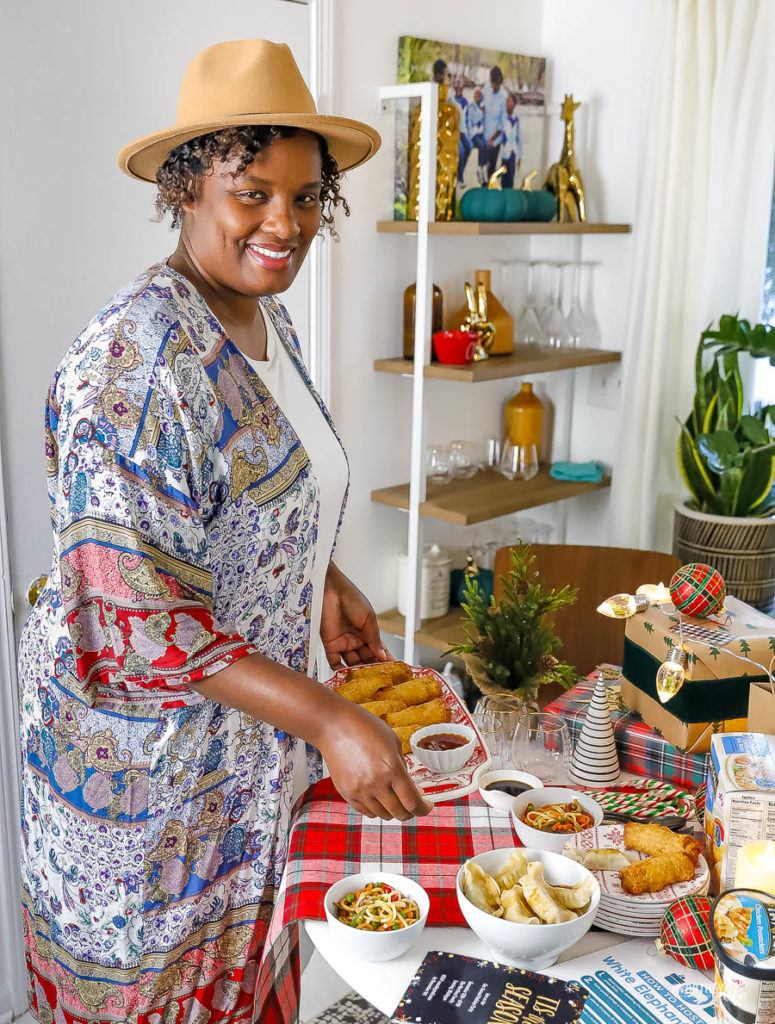 If you're short on time or don't feel like cooking, here are a few food options:
Have everyone bring a dish and have a potluck dinner.
Order takeout.
Pick up several varieties of Tai Pei frozen meals and snacks at the grocery store (or have it delivered to your house).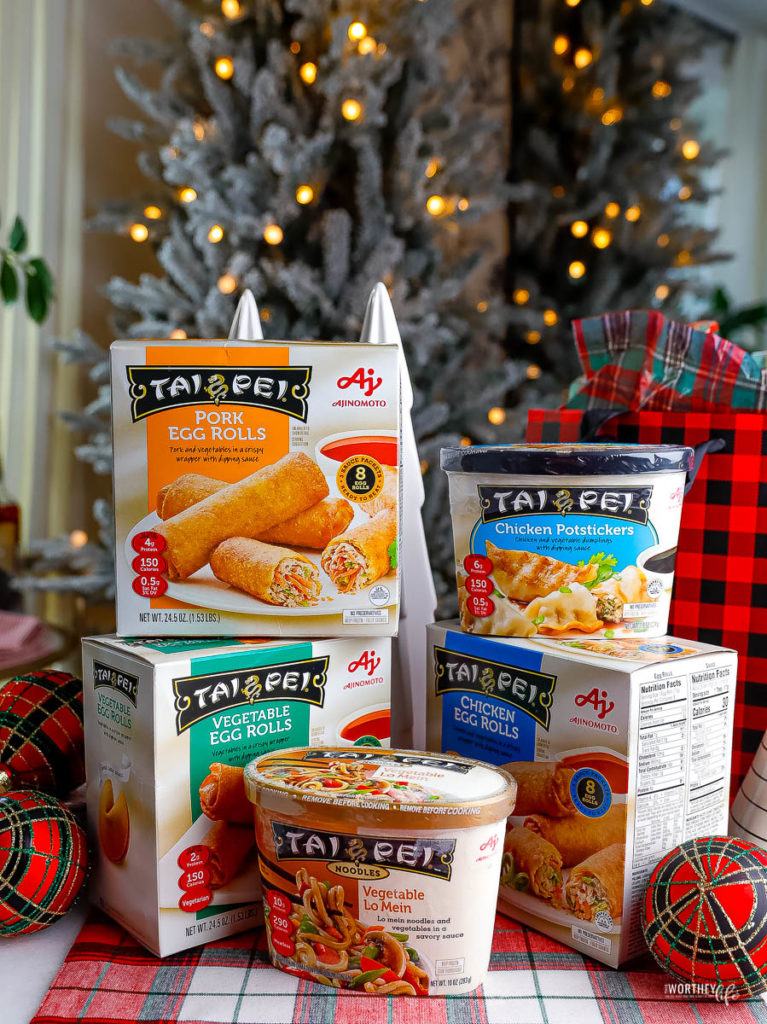 Why Tai Pei Entrees?
We've partnered with Easy Home Meals and Tai Pei frozen foods, and although this is a sponsored post, Tai Pei makes a variety of foods for everyone to enjoy. For our White Elephant Party, we're serving pork and chicken potstickers, veggie eggrolls, shrimp fried rice, and chicken lo mein. And talk about quick, everything was ready in about 20 minutes.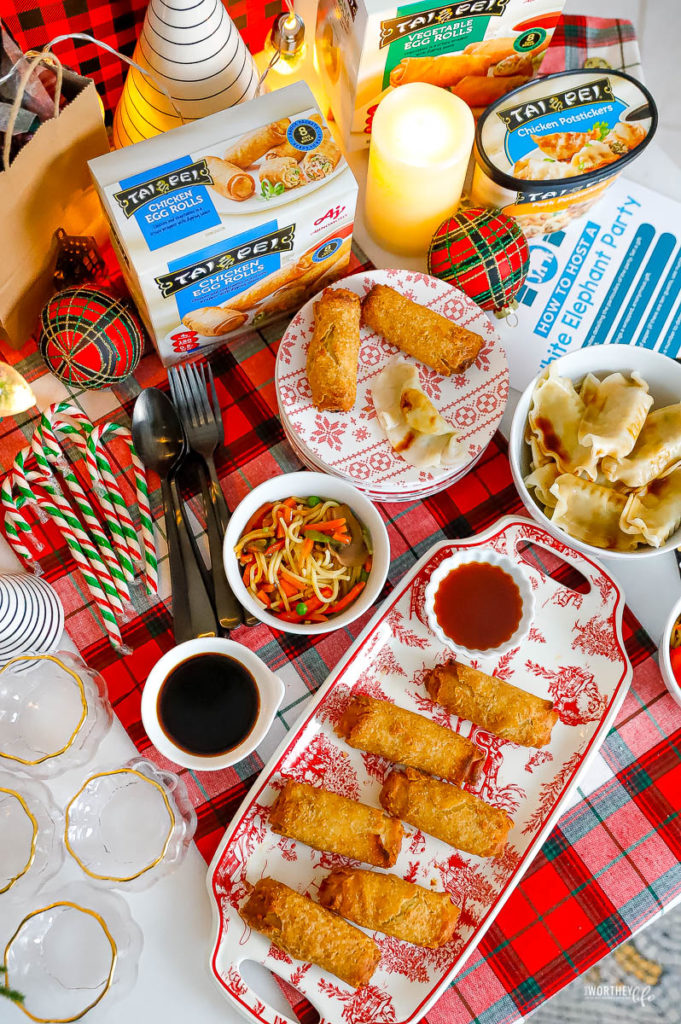 This option also works for a virtual White Elephant Party too! Say some of your guests don't love to cook or don't have time to prepare a meal. Everyone can order or pick-up their favorite Tai Pei entrees from their local grocery store. You can enjoy eating together over Zoom or another video platform. While you may not be together, the food is what connects you all.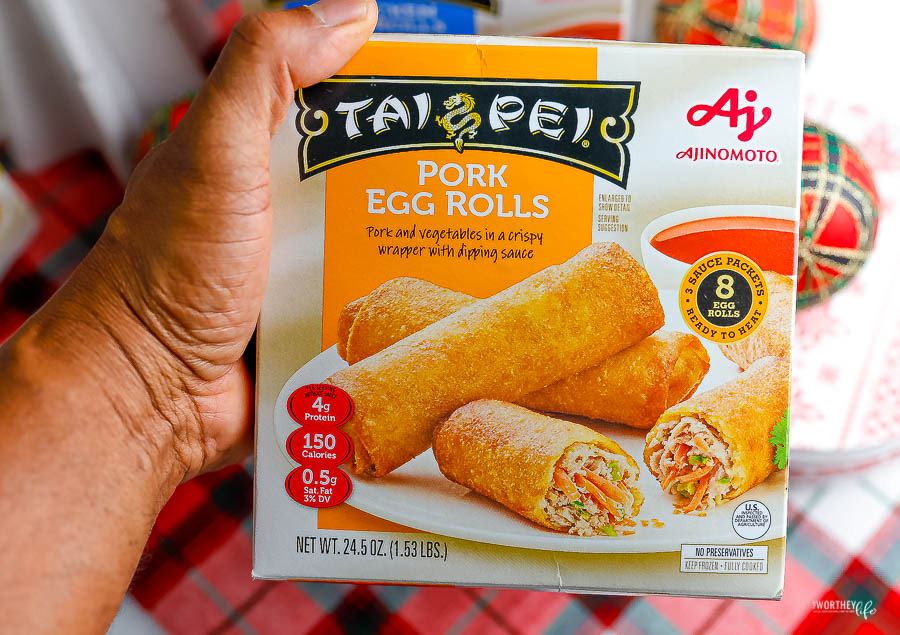 And Tai Pei isn't just party food. We keep them on deck for easy dinner ideas, and they're so easy to prepare. They're an ideal food option for our three teenage boys. As a busy mom, any food the boys can fix for themselves is a blessing. Don't be fooled by old perceptions of frozen foods. Today's frozen products include many healthy options that are made to fit every lifestyle.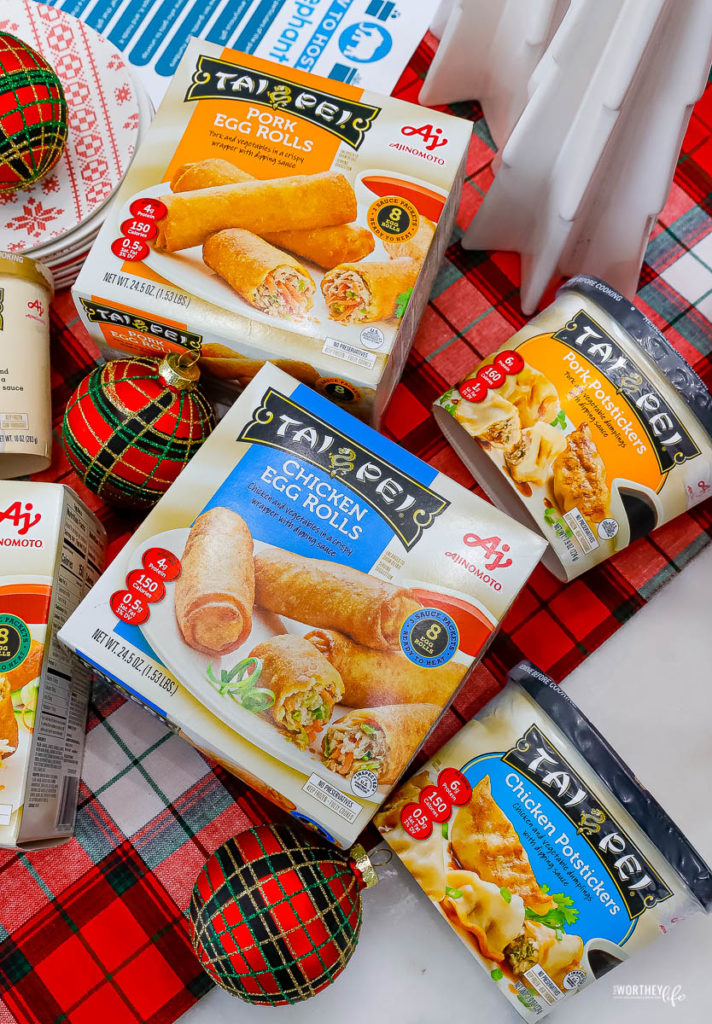 Also, many frozen food products are chef-inspired and nutritious. These products reflect trends happening in the culinary world, allowing you to get a taste without the expensive price tag. It's real food, just frozen – meaning the flavor is still there in these Tai Pei frozen entrees. And with minimal clean-up, they are perfect for serving at a holiday party, for a quick dinner, or weekend-I'm-not-cooking meal idea.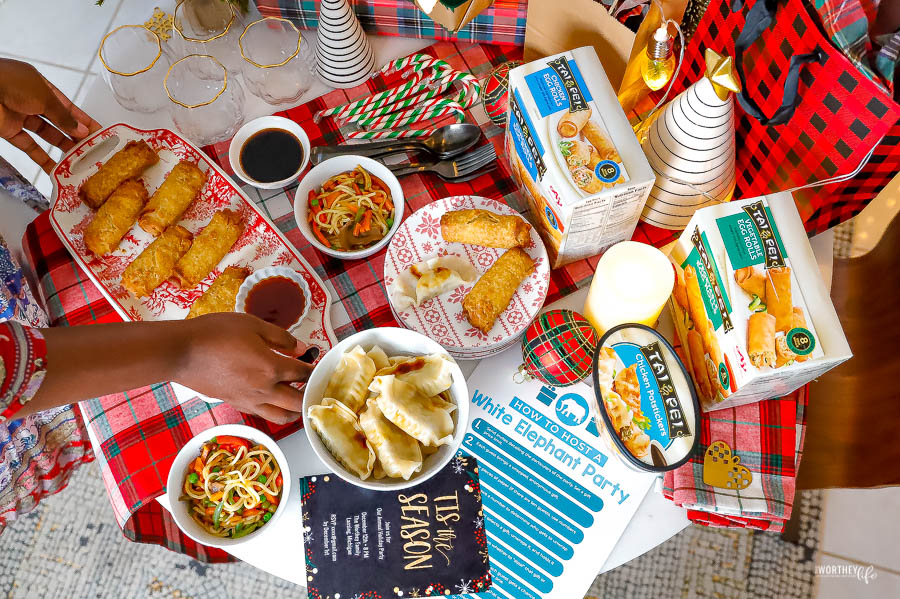 You can find various Tai Pei appetizers, snacks, and entrees in the frozen food section at your grocery store.
White Elephant Meaning – What is a White Elephant Party
The White Elephant Party's purpose is to exchange gifts with one another that are downright ridiculous and will undoubtedly make everyone laugh. Each person will get a gift to show off to the rest of the guests attending the party.
Everyone starts to laugh because the gifts given out during the White Elephant Party are far from the typical gifts you would usually give to someone. It is all about sharing many laughs while being as silly as possible and seeing who ends up with the most ridiculous gift of them all.
However, you can also toss this tradition to the wind and come up with a cool gift that everyone will want to fight over. This always makes the game a little more interesting.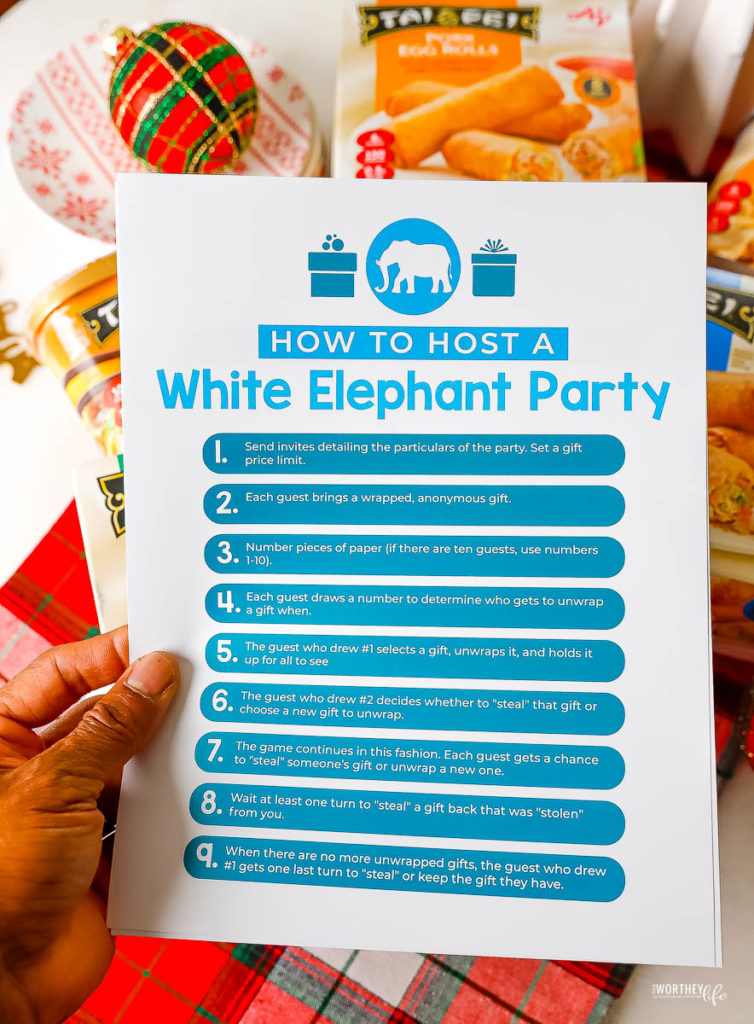 White Elephant Rules
Every game has rules, and the people participating in the White Elephant gift exchange must know how to play.
Each person should purchase a gift, most of which are silly gifts that people do not need but might still enjoy receiving. (Or you can decide as a group to each bring a gift that is something people want.) Be sure to set a budget amount. We recommend a gift under $20.00.
On the day of the party, everyone arrives with their gifts wrapped anonymously.
Now, for this next step, there are two ways you can do this: You can assign each gift a number (so if there are four people, then 1, 2, 3, 4.) Then tear a few pieces of paper, write the same numbers on them, and put them in a hat. OR you can tear pieces of paper into halves, numbering each one with how many guests are playing (so if you have four guests, then have four pieces of paper).
Put the numbers in a bowl (or hat, box). Have each player draw a number out of the bowl.
The first person who has #1 paper will pick the first present, opening it to see what they selected.
Each person will get to pick a gift after, but they can also decide to swap a wrapped gift with a gift that someone else already opened.
(Another option: The second person that goes can choose to take the first person's gift or pick a new gift. You keep repeating this until every gift has been selected).
It is a fun and creative way to do a gift exchange while having a good time with loved ones.
Pro-tip: You can print out the list of the rules and checklist to guide you through hosting your party.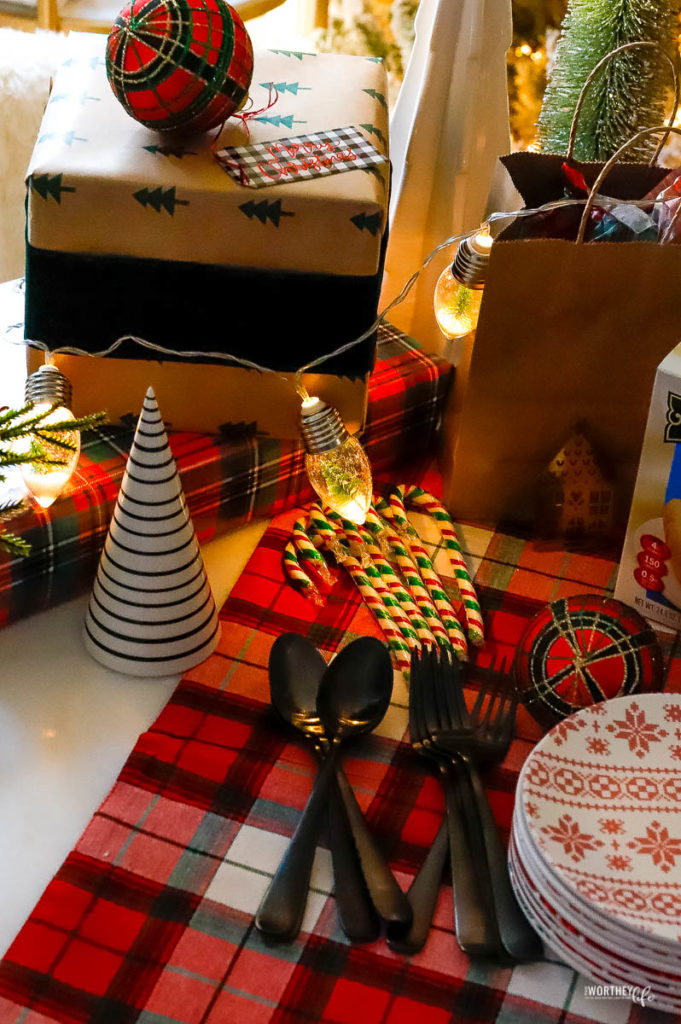 Virtual White Elephant Gift Exchange
As much fun as it is to have a White Elephant Party in person, we are living in unique times. I want to show you how to throw a White Elephant Party, a virtual style version.
Create virtual invitations to send to your loved ones.
It would be best if you found out how many people would like to attend a virtual event.
While White Elephant parties typically take place at parties, throwing a virtual party is something you might need to do to play it safe during these unprecedented times.
After your guests respond, you will know how many people are planning on attending, and you can have them each purchase a gift. Be sure to set a price limit.
Let guests know the menu so everyone can have their food ready. Tai Pei frozen food products can be found at national grocery stores. Find a location near you.
A day before the party, send out a reminder with the link to the virtual White Elephant Party.
Because the event is virtual, each guest will be responsible for shipping their gift to the designated"winner".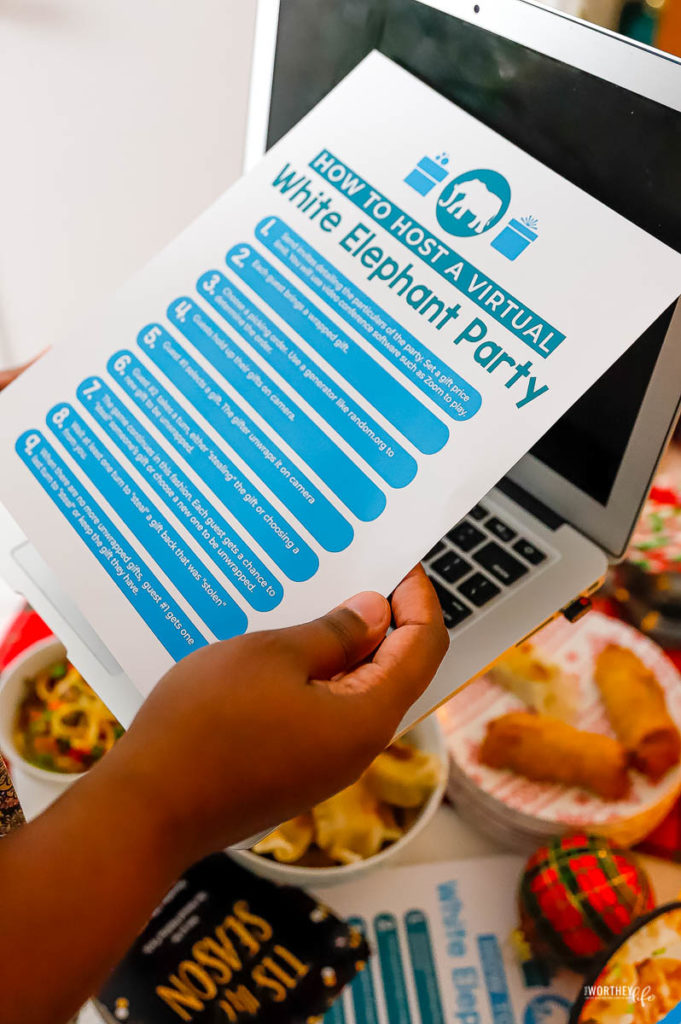 How to host a virtual White Elephant Gift Exchange
Use Zoom or another video conferencing platform to host your party with your guests. Be sure to use a secure and stable internet connection because you want your guests to hear and see everything clearly.
As the host, you'll be the one to start to Zoom event. Each guest will arrive with their wrapped gift.
Choose a picking order by using a random generator like random.org to determine the order. You can also add names to a hat and then close your eyes and pick them out.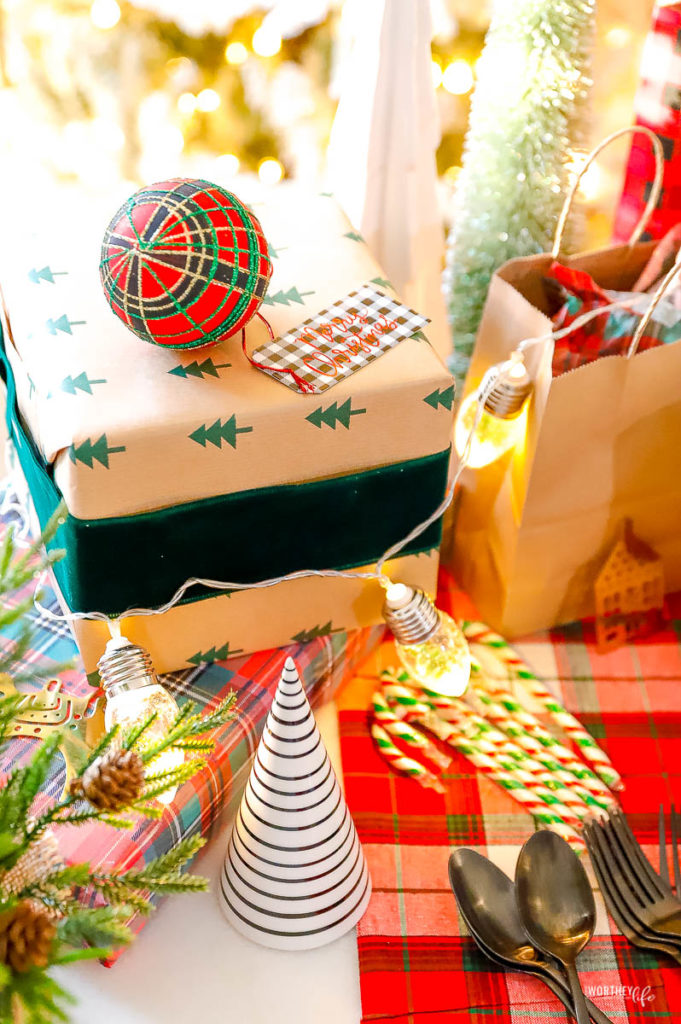 Because this is a virtual party, the first person who gets to go can ask each guest to hold up their gift, and they can select based on what they see. Then once they open that gift, the next person goes. The second person can decide to take the first person's gift or have the remainder of the guests hold up their gifts.
The game continues to go on like this until everyone has a gift. You will circle back around to the first person being the last one to decide to keep or steal a gift.
Once everyone has their gift, it will be up to each guest to mail the gift to the person who "won" their gift. If you're doing this game with local people, guests can drop off their gifts to the designated winner.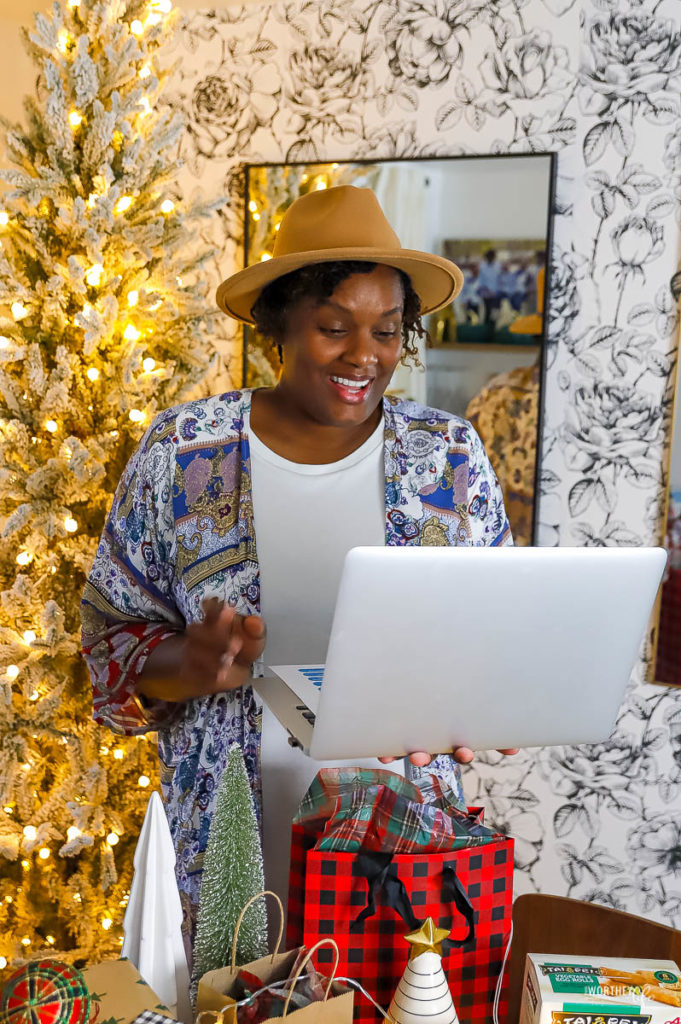 Note: Since this is a virtual event, someone should be taking notes of what gift goes where, so there's no confusion by the end of the night.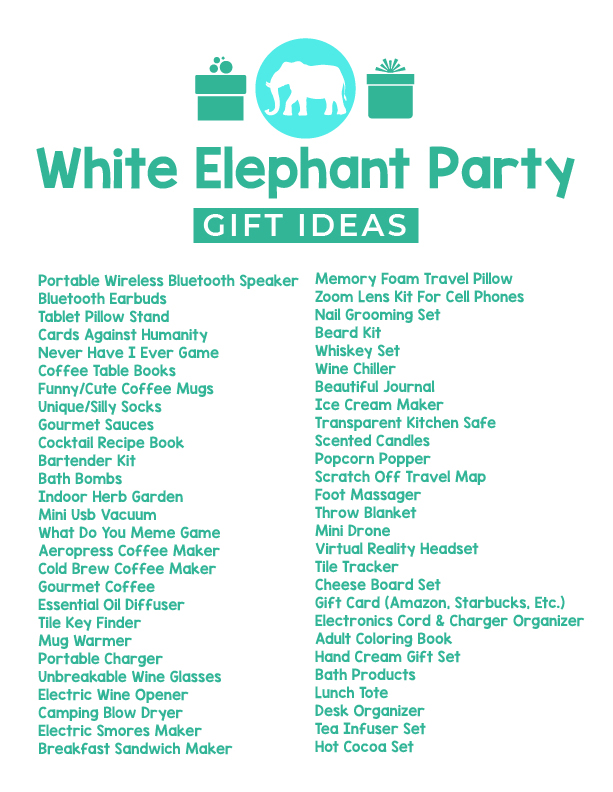 White Elephant Gift Ideas
White Elephant gift ideas can be funny, ridiculous, and something people want. We're sharing a list of some pretty awesome White Elephant Gift Ideas. Be sure to set a budget for your White Elephant gift exchange. You can print this list here.
Keep your guests safe while still having a great time exchanging fun and ridiculous gifts. If you follow the tips mentioned above, you can throw an awesome White Elephant Party that everyone will remember.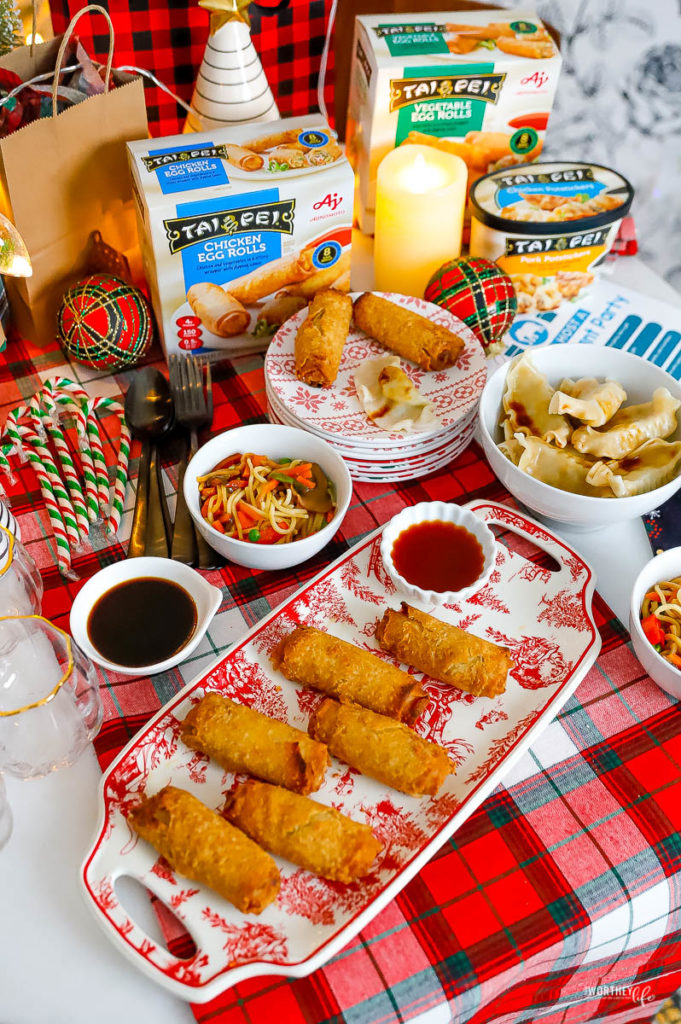 If you want to plan a successful virtual White Elephant Party, this is the way to do it. While it is not necessarily the same as having a traditional party where you can hang out with guests face-to-face, it is an excellent alternative during these difficult times.
Not planning any parties this year? That's quite okay. Tai Pei can still help you out this holiday season. Take a night off from cooking. We've been at home cooking since March. Sis, it's okay to take a break. Let Tai Pei be the star of the show. Plus, they're a budget-friendly alternative to take-out and still as delicious.